One of the best parts about winter break is having time to read something other than books for my doctorate program! I'm trying to get through several books this week, so hopefully, I'll have several more Monday book reviews for you before the month is up!
Today, I'm covering the third book in Cynthia Toney's Bird Face series.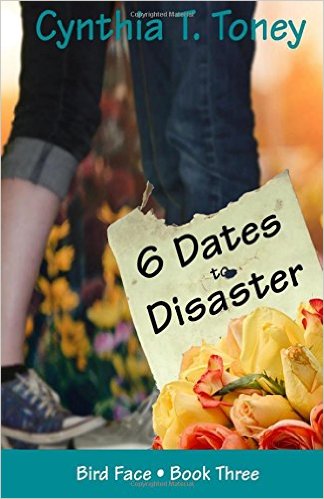 Title: Six Dates to Disaster
Author: Cynthia T. Toney
Genre: romance
Age group: YA
Summary: In this third book from the Bird Face series, high school freshman Wendy is finally dating David, and all seems to be going well so far. However, another area of Wendy's life is falling apart. In the last Bird Face book, we learned that Wendy's elderly neighbor, Mrs. V., was in the early stages of Alzheimer's. Her son and grandson decided it would be best if she moved to Alaska near them. In this book, Wendy is desperate to get to Alaska to visit Mrs. V. one last time before she can no longer remember who Wendy is. The problem is that her parents have lost their jobs, and Wendy will have to earn the money on her own to get there. Wendy's desperation leads her to some ethically questionable decisions. Can she find a way to earn the money for the trip to Alaska and still maintain her relationship with David?
If you've read the other two books in the Bird Face series, you'll enjoy this one as well. Author Cynthia Toney keeps all the kissing scenes very PG, so parents can feel comfortable handing this book to their young teens. The story moves along swiftly, and I was able to finish in just a few nights.