A.J. Cattapan offers presentations for both students and adults. Choose from the following or contact her to tailor a presentation specifically for your group.
School Visits

Young adult author A.J. Cattapan happily puts her skills as a middle school English teacher to use when she visits schools. Choose from a variety of presentations or select her most requested talk "Be Not Afraid! God Has a Plan for Your Life, Too!"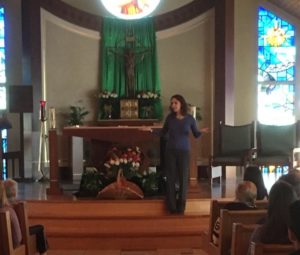 In this fun and inspiring 40-minute presentation for teens and tweens, A.J. Cattapan proves why we can trust that God always has a plan for us as long as we're open to seeing it.
A.J. Cattapan is also available for school visits outside the greater Chicagoland area via Skype and Google Hangout.
How to Get Your Writing Published Now: A Workshop for Teens
Young adult author A.J. Cattapan shows teens how they can become published authors themselves. In this 90-minute presentation, teens will learn . . .
what writing skills they need to polish in order to be published
the difference between traditional publishing and self-publishing
how to write for magazines
why it's important to join writing groups
how to build and navigate an online presence for marketing via social media
how and where to contact publishers who want to publish their work
How to Tap into Your God-given Creativity
In a 90-minute presentation, A.J. Cattapan shares with your group how God is calling them to be artists and what they can do to tap into their God-given creativity. Whether you've got a group of painters, actors, writers, singers, sculptors, or business entrepreneurs, they'll be reminded how creativity has already played a role in their lives, why God wants them to continue being creative, and what they need to do next to break any artistic blocks that may be in their way.
Pinterest for Authors: The Social Media Marketing Tool You've Been Neglecting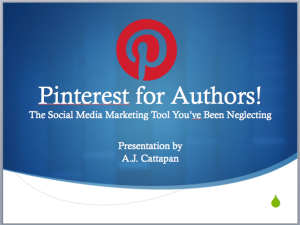 Many authors have a Pinterest account just for fun, but they haven't considered how they can use it as a writer. Pinterest can be a great tool for authors and not just for creating idea boards for your next book. It can also bring potential readers to your website. In this presentation, we'll discuss how to optimize your personal profile, why you should convert to a business account, how to make your website Pinterest-friendly, how to use a free service like Picmonkey to create super shareable pins, how to grow your following, and why you should be joining and using group Pinterest boards.
Using Instagram to Educate and Evangelize

Catholics have been called to participate in the "new evanglization," but what does this mean? In this presentation, A.J. Cattapan talks with educators and parish staff members about how to use Instagram to reach young people. We'll discuss how Instagram works; why it's perfect for reaching young adults, teens, and tweens; how to gain followers; and how to use it to inspire and motivate.
Want more info on A.J. Cattapan's speaking presentations? Please visit her contact page.
Save
Save