Check out the CPA award-winning mystery that's sweeping its away through schools!
7 riddles. 1 fortune. Way too many competitors.
All seventh grader Kameron Boyd wants to do is keep his little Catholic school from closing. It's the only school where they've made life as a selective mute somewhat bearable. As the school faces financial distress, Kam learns he is one of many potential heirs to a fortune large enough to keep his school open.
With the school's bully as one of the other potential heirs, Kam and his friends race to solve the riddles first. Their journey takes them through the churches of Chicago to decipher the hidden meanings in artwork all while avoiding the mysterious men following them.
But creepy men in trench coats won't stop them! They're on a quest–not only to keep the school open, but to help Kam recover his voice.
DISCUSSION GUIDE AVAILABLE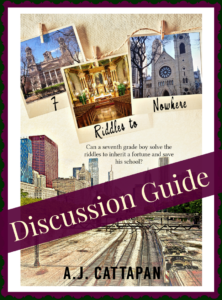 Are you a teacher, youth group leader, or book club moderator who needs a discussion guide for Seven Riddles to Nowhere?
You're in luck!
You can download one for free here.
FREEBIES!
Want a chance to win a free copy of Seven Riddles to Nowhere? Join the Insiders Club for chances to win this and other books. Sign up here.
 Recipient of the Catholic Writers Guild Seal of Approval

Save
Save
Save
Save
Save
Save
Save
Save
Save
Save
Save