I'm so excited today to introduce you to a brand-new YA romance from my good friend Carmela Martino. I met Carmela through the Catholic Writers Guild and soon discovered that we have many things in common: we are both Chicagoans, we are both members of SCBWI, we both write young adult and middle grade novels, and we are both Italian Americans. Carmela is also a writing teacher who earned her MFA in Writing for Children and Young Adults from Vermont College.
Therefore, when Carmela asked if I'd read an early copy of her book, I jumped at the chance. Thankfully, I was able to squeeze it in during my "slow" season this summer. 🙂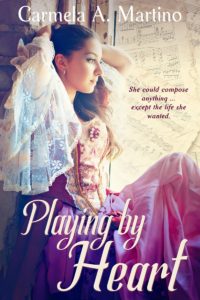 Title: Playing by Heart
Author: Carmela Martino
Genre: historical romance
Age group: YA (young adult)
Summary: Emilia Salvini dreams of marrying a man who loves music as she does. But in 18th-century Milan, being the "second sister" means she'll likely be sent to a convent instead. Emilia's only hope is to prove her musical talents crucial to her father's quest for nobility. First, though, she must win over her music tutor, who disdains her simply for being a girl. Too late, Emilia realizes that her success could threaten not only her dreams for her future but her sister's very life.
Playing by Heart is inspired by two amazing sisters who were far ahead of their time—one a mathematician and the other a composer.
I loved this story for several reasons. First of all, you know I'm going to love a story set in Italy, right? 🙂 At the time this story takes place, Italy wasn't a unified country yet, but this story set in Milan still made me feel like I was back in good old Italia! There's a good sprinkling of Italian words throughout, but don't worry if you haven't studied any Italian. There's a glossary of terms at the back.
Second, I love that this story is based (albeit loosely) on two real-life sisters, and that Carmela works historical events into the story. For example, she includes an actual visit that the Archduchess Maria Teresa made to Milan at that time and makes it fit perfectly with the tale of these two sisters.
Third, I love that this story shows a little "girl power" at a time when girls had little power over their own lives. It's true that their father is using them for his own gains, but the girls are well educated and trained at a time when most were only taught "housekeeping" skills.
Finally, who doesn't enjoy a sweet romance with a quiet but handsome young man and a beautiful and talented girl who is up for the challenge of proving herself worthy?
Playing by Heart is a beautifully composed tale of love, faith, and family!
The book is now available in paperback and ebook through both Amazon and Barnes & Noble.
Want a chance to win a free copy? Then check out the giveaway on Carmela's blog as part of her blog tour. Click here.

Also, come join the fun at the
Facebook Launch Party for
Playing by Heart
on October 17, 2017, from 7-9 p.m. Central Time.
There will be many great prizes,
including a copy of my YA novel Angelhood, so come join us!
Click here to R.S.V.P.
Save
Save
Save