I received a copy of this book from a friend this past summer. If you haven't read it already, it's even cuter than you might imagine!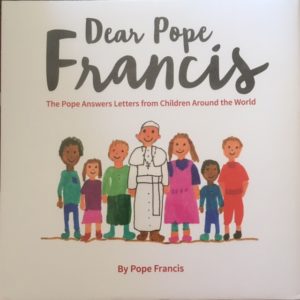 Title: Dear Pope Francis: The Pope Answers Letters from Children Around the World
Author: (um . . . this should be obvious) Pope Francis!
Genre: picture book
Age group: ALL!
I figured this book would be cute. I mean, how could Pope Francis answering kids' questions not be cute? I was surprised, however, at just how deeply it touched my heart.
The first surprise was that the children's letters are included exactly as they were written in their original language right in the book. This includes the drawings that each kid made to go with their letter. I'm not sure if the children from around the world were all instructed to include a drawing, but at the very least all the ones included in the book have a drawing.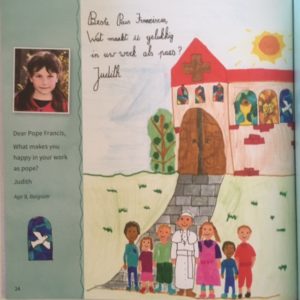 In a sidebar to the left of the child's letter and drawing is a picture of the child, his or her age and country, and a typed English translation of the letter.
On the page opposite the child's letter is the Pope's typed response with his signature at the bottom. Each response from the Pope is told in his usual, colorful manner. He is a bit of a storyteller at heart, and his responses often include imagery.  For example, he tells twins from the Netherlands that he has much work left to do, but he is old and has "very little thread left in the spool."
He also references their drawings in his responses, interpreting them as an important part of the question. Reading his letters is almost like eavesdropping on a grandfather talking with his grandchildren. He compliments them on their drawing and eases their fears about some of life's big questions.
This book would make an excellent addition to a child's home library or a great gift for First Communion.