I'm pleased to announce that I'll be part of a panel of authors presenting a FREE workshop on writing for young readers on Sunday, October 23.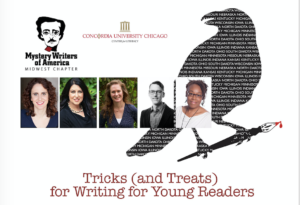 Registration and parking are all free. Just sign up here.
Here are the rest of the details:
Sunday, Oct. 23, 1 p.m.-3 p.m., Concordia University Chicago, Christopher Center Room 200, River Forest, IL
Expect some treats and tricks—writing tricks, that is—as five Chicago-area mystery authors discuss writing and publishing stories for young readers in an event co-hosted by the Midwest Chapter of the Mystery Writers of America and Concordia University Chicago's Center for Literacy. The event is free and open to writers and readers of all ages. Free parking is available in Lot 1, at the corner of Augusta and Monroe.
"Tricks (and Treats) for Writing for Young Readers" will feature Kate Hannigan, author of The Detective's Assistant, winner of the 2016 Golden Kite Award for best middle-grade novel from the Society of Children's Book Writers and Illustrators; Keir Graff, executive editor of Booklist publications and author of two middle grade books, The Other Felix and, coming soon, The Matchstick Castle; Michelle Falkoff, author of the young adult titles Pushing Perfect and Playlist for the Dead; A.J. Cattapan, author of the middle grade adventure Seven Riddles to Nowhere; and Natasha Tarpley, author of the best-selling picture book, I Love My Hair! and the forthcoming middle grade mystery The Harlem Charade and the co-founder of Voonderbar!, a multicultural children's book publisher.