Today I am so excited to talk with you about the next book from Leslea Wahl. Leslea and I met online through the Catholic Writers Guild, and then this past summer we got to meet in person when we met up in Rome for dinner!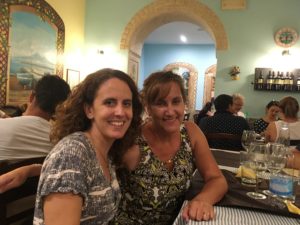 I knew from reading Leslea's first book The Perfect Blindside that we would be kindred spirits. Her main character in that book employs the same sort of "Jesus, please help me not to make a fool of myself today" kind of prayers that I've been wont to make. 🙂
Anyway, today I get to tell you about her next book, which releases tomorrow!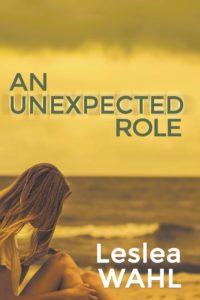 Title: An Unexpected Role
Author: Leslea Wahl
Genre: contemporary romance with a little mystery
Age group: young adult
Synopsis: High school student and theater geek Josie just wanted to enjoy the perfect summer before becoming an upperclassman. She dreamed of afternoons at the pool and weekends at the lake. But just as the school year is ending, her mother's latest young adult novel releases, and everyone at school seems to have read it and believes that the terribly embarrassing moments that happen to the main character are based on things that actually happened to Josie. She becomes the target of ridicule at school and is teased mercilessly.
To get away from it all, Josie leaves her Minnesota hometown to spend the summer with her artsy Aunt Lily who lives in a small beach town in South Carolina. Unfortunately, one of the "tier one" baseball superstar athletes from Josie's school is playing for a baseball team in South Carolina for the summer, and he's staying in the same beach town. Josie knows he'll remind her of all the ridicule back at home and make her summer miserable. Not to mention, she's got her eye on a hot young Latino boy who's working at the beach town so he can send money back home to his family in the Dominican Repulbic, and baseball star Ryan seems to keep getting in the way.
And if that weren't enough, there's been a string of robberies in the small town that no one is able to explain. Josie wants to stop the crime spree and have a little summer romance, but first she'll have to discover who she really is.
How could I not enjoy this book with all its baseball and musical theater references? Anyone who's read Angelhood would have no problem imagining Leslea's main character Josie and my main character Nanette getting along really well!
What I really liked about this book was Leslea's ability to bring up topics like caring for immigrants and refugees, respect for veterans, and a teen's struggle to find herself amidst the bullying climate of high school–all without coming across as preachy or didactic. She easily weaves these topics into a tale that teens can enjoy from Josie's attempts to find romance to her efforts to discover what's really going on in this small island beach town.
Told with humor and heart, An Unexpected Role is a tale for any teen who enjoys a book with a little romance, mystery, and adventure!
Want a chance to win books for teens and tweens? Sign up for my Insiders Club by clicking here. Once a month, I'll mail you updates on giveaways from me and my author friends as well as the inside scoop on my writing and some fun recipes I like to share!
Save