We now take a break from our regularly scheduled travel blog to bring you a cover reveal! A few months ago I was asked by fellow ACFW young adult author J.C. Morrows if I'd help her celebrate the release of her book. Today I'm helping her reveal the cover of her book so here it is. What do you think?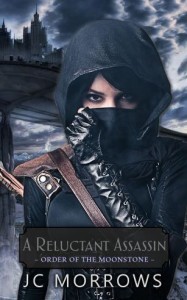 I'll have more info later (including a book trailer video), but for now I'll simply tell you that the premise sounds very intriguing!
And if you're stopping by for the first time today and you enjoy reading travel stories, be sure to check out my recent blog posts. This one is coming to you from Florence! I'm in the middle of a three and a half week trip through Italy and Spain.
So far I've taken Italian classes, cooked Italian meals, stood within a few feet of Ben Stiller, been rendered speechless by a Swiss Guard, had amazing encounters with God in beautiful churches, and all sorts of other crazy adventures!