Florence is a lot about museums, a lot about art in general, so last night Katie and I began making plans for how to cover it all without wearing ourselves. Ha! That may be impossible.
Of course we had class in the morning first. The walk to school is a smidge longer for me than the walk in Rome, but Katie was used to only a twenty-minute walk to school and now it's a good 30-35 minutes.
In my class, we're now working on the conditional verbs, which is basically subjunctive in English. Think: I should have finished this book or one day I would like to travel to Hawaii. It's not easy to wrap my head around when exactly to use it because we don't talk about subjunctive much any more in English, and there's not one direct translation between languages.
After class, Katie and I ate some lunch that she bought at the grocery store yesterday. We had tomato and mozzarella sandwiches and fresh peaches, which tasted really good!
Then we headed to Galleria degli Uffizi, one of the major art museums of the world (not to mention Florence). Our plan was to become "Friends of the Museum," which would get us into a whole slew of museums for 60 Euros. Expensive but cheaper than buying individual tickets at each museum. However, when we got to the museum, the lady  at the desk said that during the summer those memberships don't work and our 60 Euros would only get us into the Uffizi, not the 20+ other museums. So forget that plan!
To get into the Uffizi, it's best to have reservations, so we went to the next desk and bought tickets for a 4:45 entrance. Then we walked up to the Galleria dell'Accademia, where Michelangelo's David stands. (You can see the replica of David  in the piazza just north of the Uffizi).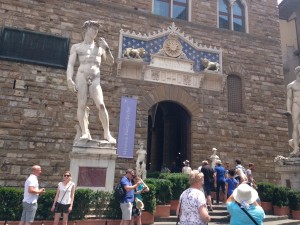 Like the Uffizi, you need advance tickets for the Accademia, so we bought tickets for tomorrow afternoon.
Then we headed to the Medici Chapels. These were built as a mausoleum of sorts for the famous Medici clan that ruled this area of Italy  for centuries. When we walked in, Katie spotted a young Italian guy sitting at a table with a sign that read "Free guided tours" in English. Katie read it aloud, and a woman nearby heard her and said to her husband,  "Hey, they've got free tours here."
Next thing I know, this college-aged Italian guy is walking the four of us around the mausoleum, the upstairs chapel, and even some of the back sacristy area and explaining things as best he could in a heavily accented form of English. My  guess is that the chapel is letting him give free tours so he can practice his English. We had to help him with some words now and then, but the kid did a really good job. Plus, if he hadn't brought us to the sacristy area, I wouldn't have realized we could go back there.
And can you guess what they have back there? Tons of relics of saints! Including a  finger from St. Catherine and a heart from some poor saint whose name I didn't even recognize! It was crazy!
All the other woman in our little group wanted to see were the Medici tombs designed by  Michelangelo.
After the Medici Chapels, we tried to go in the nearby San Lorenzo church, but we got yelled at by an Italian woman telling us it was closed even though the sign said it was open until 6:00 p.m.
Next, we stopped for gelato. We hadn't had any in two days, so we were way over due!
Then it was finally time for the Uffizi. Tons of art! I'll give a small sampling here, but there will be more on Facebook and Instagram.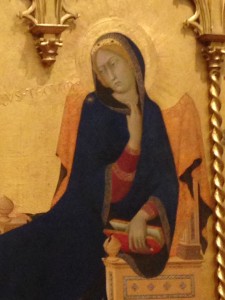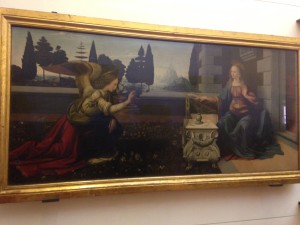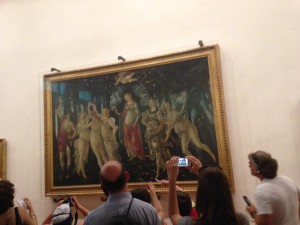 After the museum, we had an early (by Italian standards) dinner and did our homework.
We're worn out now. We'll see how far we make it through the Accademia tomorrow when we get to see the real David.