Everyone who goes to Lourdes and enters the healing water baths has a story. I guess it's time I finally told mine.
In case you haven't already heard, I had the opportunity to visit Lourdes on pilgrimage with some of my fellow members of the Order of Malta. Every spring, Knights and Dames of Malta from around the world take "malades" (the French term for sick people) to Lourdes for spiritual and physical healing.
When I became a Dame of Malta in November of 2015, many people at the Investiture ceremony asked if I'd done the Lourdes pilgrimage yet.
"Um, no."
"Oh, you must go," they all said. "It's an experience you won't forget, and the candlelit rosary procession is so beautiful!"
I'd heard stories from people who'd been to Lourdes. My own sister-in-law had told me how she had visited Lourdes when she'd had a skin rash. The water was ice cold, she said, but when she came out her skin felt like it was on fire and she dried instantly. In fact, everyone I talked to who had been in the baths said they dried off right away.
Hmm, it sounded like a cool pilgrimage. Still, it would be expensive, and I'd have to save up personal days to get enough time off of work.
Less than a week after my investiture into the Order of Malta, my fellow YA author friend Stephanie Engelman posted shocking news. She had woken in the middle of the night to nurse the youngest of her five children and ended up finding her husband on the floor. He'd had a massive heart attack.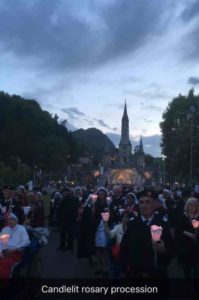 As news unfolded over the course of the next few days, details surfaced that felt like God was whacking me upside the head and saying, "Invite them to Lourdes! Sponsor her husband Ray as a malade." You see, Stephanie's first book was less than two months away from releasing. The book's about the power of the rosary. Ray had gone into a coma, and it was while his parish community was holding a special rosary prayer session for him that Ray's condition began to improve. As I heard details of all this, I kept thinking about the candlelit rosary procession at Lourdes.
Long story short, I eventually asked Stephanie if she and Ray would be interested. Due to timing, we couldn't get into the 2016 pilgrimage. We had to wait to file for the 2017 pilgrimage, which was probably for the best because I needed time to save up some personal days at work.
Luckily, Ray was accepted as a malade, and so off we went.
Each malade at Lourdes gets his or her own "pod." This is a group of people who helps care for the malade during the trip. That pod consists of a caregiver (usually a family member), a host (who keeps us all in line), a charioteer (who pulls the voiture the malade sits in), and a few other Dames, Knights, or volunteers to help push the voiture (that was my job) and/or fetch whatever the malade needs (water, umbrella, etc.).
The malades and their caregivers visit the baths on the second day of our pilgrimage. Anyone else on the pilgrimage has to wait until the last day.
Since I had been on a pilgrimage to Rome three years earlier, I knew not to expect any major religious experiences. They just don't seem to happen for me when I'm with a group. I think it's due to the same reason I don't get much out of group retreats anymore. I'm much more ready and open to listening to God when I travel alone or when I go on a silent retreat. Maybe it's because I have such an Energizer Bunny sort of lifestyle. I go, go, go. And all that "going" means it's hard to slow down and have profound moments.
In fact, as we processed from one event to the next in Lourdes, one of the thoughts that ran through my mind often was, "I am your worker bee, Lord. Just put me to work."
And when it came time to pray, the only prayer I could think of went a little like this: "Listen, Jesus, you know I'm not good at this pilgrimage thing, so I don't expect much for me during this time. Besides, there are a lot of really sick people with us on this trip, people who need a lot more healing than I do. So whatever graces you might have had planned for me on this pilgrimage, why don't you just pass them along to someone else who needs them more?"
In a way, it took the pressure off of me. On my previous pilgrimage, I'd felt incredibly saddened when everyone else was having profound encounters with God, and I was not. That's why I ended up returning to Rome three months later on a solo trip, so that I could sit in silence with God and feel His presence again.
This time around I didn't want to feel bad if other people had profound experiences with God, and I didn't. Let them have their healing. I'd find time later to sit in silence with God.
Despite all that, I still decided to try to get into the baths on the last day. I had been warned that you sit and wait outside the baths for hours. In fact, I'd witnessed that for our malades three days earlier. It took a great deal of time to get them through, and we'd even had a reserved time for them.
So on that last afternoon of our pilgrimage, I headed to the baths with some of my fellow Knights and Dames from the U.S. We lined up outside the baths and took our turn shuffling along the benches outside the baths while we listened to the rosary being recited over and over again. Usually, the rosary is recited in a variety of languages. However, the people volunteering to lead the rosary that day must've been Italian because Italian (and a little bit of Latin) was all we heard. For nearly three hours!
On the bright side, I finally got the Hail Mary memorized in Italian. 🙂
While I prayed along as best I could, I settled myself in for the long wait. I'd been told this long waiting is "part of the process." Honestly, from the tales I'd heard, it sounded like this "process" made people either so sleepy or so anxious that by the time they got into the baths, they were a bit disoriented. Everything inside the baths themselves happens very quickly, and I lot of people felt like their time in there was more of a blur than anything else.
I was determined to "rest up" during my prayer time so that my senses would be alert and ready to take it all in. I didn't want my bath time to rush by so quickly that I felt I missed it.
After hours of praying the rosary in Italian, it was finally time to enter. First, just a couple of you at a time enter the building and sit on yet another bench. You are seated across from a number of booths that have closed curtains. When a curtain is opened and a guest leaves, another person from the bench is invited inside.
Once inside the curtained area, you notice that this is really just an antechamber to the bath itself. This is the "dressing area." It's maybe 8×8 feet. Along the walls to your right and left are rows of plastic white chairs. Above the chairs are hooks. Several volunteers in blue and white striped aprons stand around "shielding" women by holding up blue robes to cover the women as they undress.
I was instructed to hang all my clothes on one of the hooks and place my shoes under the chair while a volunteer held a blue robe behind me. When I was ready, she wrapped the robe around me, and I stood by the plastic chair for a moment until the curtain on the other side of the antechamber opened, and I was led into the bath itself.
The bath room is not much bigger than the antechamber. On the opposite wall was a square depiction of Mary. Between that wall and where I stood was a small, shallow pool. It was maybe three feet wide and five feet long, and only a couple of feet deep.
The blue robe was unwrapped and somehow the women volunteers simultaneously wrapped me in a white sheet that had been dipped in the bath water. Already I could feel how ice cold that water was going to be. In fact, I'd heard so many stories about how shockingly cold the water was that I think that had become one of my chief concerns. I had visions of shivering madly like when I took swim lessons in the summer when I was a kid and had to jump up and down in the pool to stay warm.
As the ice cold sheet was wrapped around me, I took in a deep breath. Everyone said my time in the bath would fly by, so I told myself I could handle the cold. It wouldn't last long.
The lead volunteer instructed me to step onto the first step inside the bath, to make my prayer intentions quietly, and then to make the sign of the cross to indicate when I was finished.
I stepped down. The freezing water hit me, but I was intent on making my prayer intentions. I'd prepared for this for days, so I wasn't going to let the moment slip by. When I was finished, I made the sign of the cross, and a volunteer on each side guided me down the remaining steps into the water.
I breathed deeply and slowly as I plunged further and further step by step into the ice cold water. Amazingly, I didn't start to shiver. I simply breathed my way through the painfully cold water. "You can make it," I told myself. "This won't last long."
After taking a few steps closer to the opposite wall, the volunteers told me to sit down in the water. I took another deep breath and exhaled as the icy water rose above my waist. Then the volunteers gently leaned me back into the water until it came up to my neck, being careful to keep my head above water.
Immediately, they brought me back up. The volunteer on the right lifted my hand onto a horizontal silver bar that was fastened to the wall below the square depiction of Mary. The volunteer on the left did the same with my left hand. Then the volunteer on the right grabbed my left hand and pulled it over the right.
What kind of a game was going on here? Then I realized she was getting me to turn around. My time in the bath was over. I simply had to walk back out of it.
When I got to the top of the steps, I thought, "Well, here it comes–the instantaneous drying." I didn't expect my skin to feel like it was on fire like my sister-in-law had. She was the only I'd heard that happening to, but everyone talked about drying off right away, so I stood there while they removed the white sheet and re-wrapped me in the blue robe.
Hmm. Something was wrong. I wasn't dry immediately. "Oh well," I thought, "maybe people didn't actually mean immediately immediately. Maybe they meant back in the antechamber."
So I let the volunteer guide me back into the antechamber, where another woman held my blue robe open to shield me while was instructed to put back on all of my clothes. This meant donning, once again, my entire uniform for the Order of Malta, which included a white skirt, a long sleeve white blouse, a red cardigan, the long black and red Order of Malta cape, my shoes, and the white veil for my head. (See photo to right. Is it just me or do we look like we should be Red Cross nurses during WWI?)
As I put my shirt back on, I thought, "Huh, that's funny. I'm still not dry."
I put on the skirt. Nope not dry yet.
I put on the red cardigan. Still dripping.
I put on the cape. Not dry yet.
I put on my veil. I'm still dripping. I can feel it running down my legs. For crying out loud, I'm going to have to put on my shoes now, and my feet are all wet. Why have I not dried off yet?
And that's when I heard a voice say, "You told me I could pass it on."
Heart stopped.
God had just figuratively whacked me upside the head again. Don't tell me to pass it on and then be surprised when I do it.
You see, God let me stand there and drip as a sign that he had taken my prayer seriously. He had passed on whatever graces He had planned for me to someone else. I'd received a physical sign of the spiritual graces someone else would get. God just had to sort of "whack me upside the head" to get the point through my thick skull.
And so I put my shoes back on my wet feet. And I squished my way out of the baths. And I walked around the grotto where, in 1858, our Blessed Mother had appeared to Bernadette and told her to bring people to the spring she would find when she dug through the mud.
And my heart was full.
---
The title of this blog post is a bit of a tongue-in-check nod to the absolutely beautiful blog post "That Time I Went to Lourdes and My Son Got Healed," written by the mother of the malade that I cared for while in Lourdes. Please visit her blog here. You will not regret taking the time to hear her Lourdes story!
Also, to learn more about my friend Stephanie, whose husband I sponsored, please visit her blog here.