Today was Katie's birthday. Celebrating your birthday in Rome is pretty special, but I was hoping we could find some ways  to make it extra special. As you know, things don't always work out as planned.
We started by meeting near St. Peter's Square. Our goal was to get into St. Peter's for the 10:30 a.m. Mass, but when we arrived nearly 45 minutes early, the line to get into the basilica was nearly wrapped all the way around the square. It didn't seem likely that we'd get past security in time for Mass.
Luckily (or perhaps by God's design), Katie had run into another girl from our school. She knew of another church inside the Vatican that had masses nearly every hour. The next would be starting in five minutes.
"And we can get into this church inside the Vatican?" Katie and I asked.
"Sure," she said and pointed us back to a gated entrance just north of St. Peter's Square. There were Swiss guards there, but they were letting people into a church just inside the gates. We followed  the people in and soon found ourselves in this beautiful small church dedicated to St. Anne, Mary's mother. The Mass was in Italian, but they had guides for following along. We had trouble following the homily, but the three of us seemed to understand one basic  point; namely, that when we have troubles and our faith is small, God can help our faith to grow and then it will be bigger than our problems.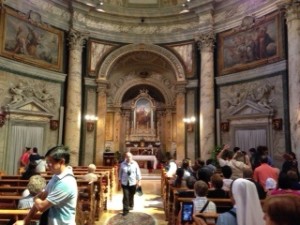 After Mass, we thought we might catch Pope Francis doing his Sunday Angelus, but it turns out he was in Turino for a special Mass, which was being broadcast on the JumboTrans at St. Peter's.
Thus, we moved on to our next activity–heading out of the city to visit the ruins of Ostia Antica. This is an ancient Roman  port town that was eventually covered up by a malaria-infested swamp. Although this swamp land drove people away, it preserved the area in much the same way that the volcanic ash preserved Pompeii.
To get to Ostia Antica, we had to take the Metro A line to the Termini station at the center of town, transfer to the Metro B line for several stops and then take a half hour train ride out to Ostia Antica. In all, the trip was about an hour from the Vatican.
Since Ostia Antica is a ways from the city, it was pretty quiet, which I think was a change that Katie and I both enjoyed. We both also really enjoyed the weather. It was sunny with a light breeze and not too hot, especially if you were in the shade.
We tried to follow the Rick Steves's audio guide to the ruins but had trouble figuring out exactly what he was talking about at times.
The ruins start with the necropolis (another city of the dead) outside the old city walls.
We also saw the remains of the old warehouses where goods were stored when they were brought into this port town. Further along, we came to a set of stairs we could climb that would allow us to look down at the old baths, and we got a view of this cool mosaic flooring depicting Neptune.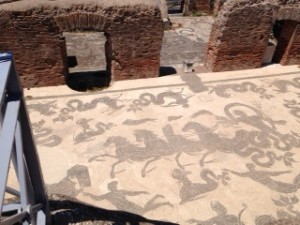 One of the coolest parts for me was the old ampitheater. Katie wanted to play her flute there, and I was ready to burst into a  Shakespearean monolgue oer poem, but Katie joked I should read from my book there. Ha!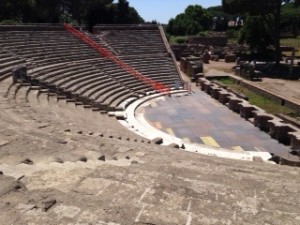 We also saw "Square of Guilds," which (based on Rick Steves's guide) sounded like an ancient strip mall. Each store advertised its good and services via mosaic pictures and Latin inscriptions out front.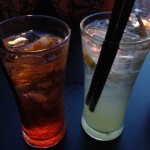 It took a while to get home, but we enjoyed some pizza and gelato when we returned, as well as a celebratory birthday drink at a nearby bar.