In this second in my series on helpful travel tips in Italy, I'm going to explain how to get tickets to see the Pope at his weekly General Audience. Before my trip, I had read conflicting advice on line. "It's to the left of St. Peter's." "It's to the right of St. Peter's." "You have to ask a Swiss Guard." Which Swiss Guard?
I'm going to make this ridiculously easy for you. Because really, it is easy.
First off, the General Audience is held every Wednesday morning at 10:00 a.m. except for during the month of July. If the weather is good (or even relatively good), it's held outside in St. Peter's Square. If the weather's really bad, it's held inside the Paul VI Auditorium, which would be to your left if you're facing toward St. Peter's Basilica.
Now, how to get tickets? It's actually really easy. Stand in St. Peter's Square and face toward the Basilica. See that set of colonnades off to your left?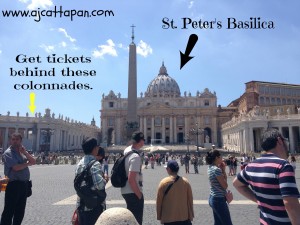 Walk through those colonnades. You'll see a gated area. (By the way, this is the same gated area, you'd go to if you had tickets for the Scavi Tour, which gets you under St. Peter's Basilica to see the old necropolis it was built upon and where St. Peter was actually buried.)
In front of that gated area will be a Swiss Guard. Just ask him for the tickets. He has them in his pocket. No kidding. Don't believe me? Read about what happened when my friend Katie and I went to Rome and went to get our tickets.
Tickets are free, and you can pick them up the day before.
With any luck, you'll get a great photo of Pope Francis kissing a baby!
Want to keep up-to-date with my travel tips and writing news? Sign up for my monthly newsletter.