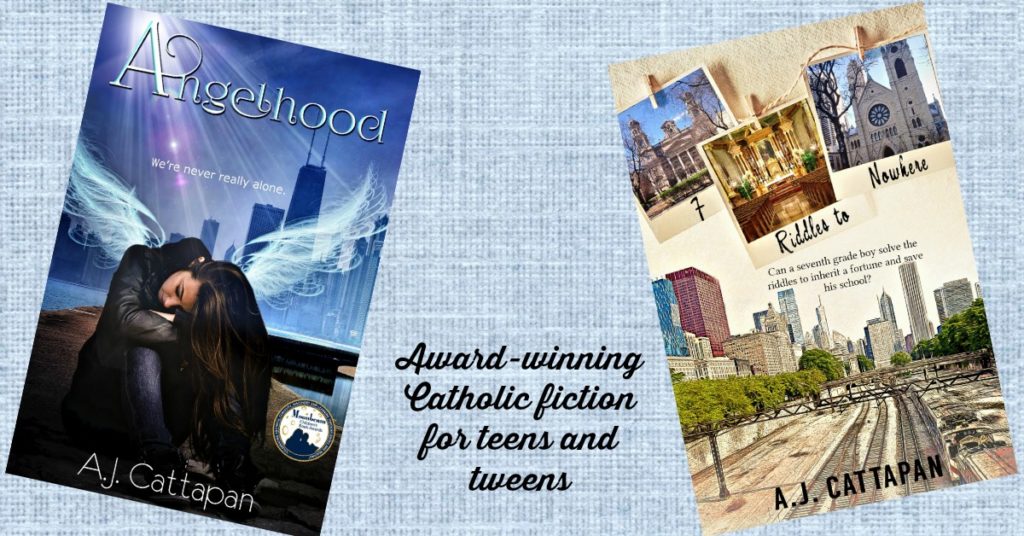 To claim your free book, click here.
Both books have free downloadable discussion guides for use in your classroom.
Seven Riddles to Nowhere (grades 4-8) tells the story of seventh grader Kameron Boyd, a selective mute who's finally found a home in a small Catholic school. When financial problems threaten to close the school, Kam and his eclectic group of friends set off on the adventure of a lifetime in order to win a riddle-solving competition with a huge cash prize. The riddles take them on a scavenger hunt through the churches of Chicago, but can they solve the riddles before the other competitors do? And perhaps more importantly, will Kam ever learn to speak in public again?
Angelhood (grades 7-12) tells the story of seventeen-year-old theater geek Nanette, who simply wants a life on the stage, but when her dream theater school rejects her and her best friend dies in a horrible accident, Nanette thinks the world may be better off without her. Unfortunately, there's no peace in the afterlife for Nanette. If she wants peace, she'll have to earn her wings by saving another soul intent on taking her own life.
Both books have won the Catholic Writers Guild Seal of Approval, so you can rest assured of their high quality and commitment to Catholic values.
Ready to claim your free copy? Click here!
Can't decide which one to try? Watch the trailers below!


Wondering what started this giveaway?
During the ten years I taught reading and language arts at Catholic schools in the Archdiocese of Chicago, I discovered how challenging it can be to find books for teens and tweens that are simultaneously challenging, "clean," and value-laden–not to mention fun and engaging! After all, we want our students to develop a love of reading, right? And that means sharing with them books they simply can't put down.
Now as an author, I've had the pleasure of visiting Catholic schools where students have read my young adult novel Angelhood and my middle grade mystery Seven Riddles to Nowhere. As a teacher and author, I've been thoroughly impressed with the depth with which students have discussed these books–and thrilled with how eagerly they read them!
Since I know that Catholic school teachers work on a shoestring, I'm so excited to be able to make this special offer to you! For a limited time, Catholic school teachers can grab a free ebook copy of either Angelhood or Seven Riddles to Nowhere to preview for their classroom. If after reading the book, you decide you want to make it a part of your curriculum, just drop me a line (via the contact form on my website, Twitter, Facebook, or Instagram) and I'll tell you how your school can save oodles of money by buying in bulk direct from my publisher. (Seriously, my publisher is offering a fantastic deal!)
Now

claim your copy

before this offer disappears!
Save
Save
Save
Save