Years ago, Trenton Lee Stewart came to speak at the school where I was teaching. He read a portion of his first Mysterious Benedict Society book, and I thought, "Wow, not only do I want to read that book, but I wish I'd written it!"
In the years since that author visit, I've not only read the book and its sequel, I've also bought the book for several of my nieces and recommended it to many of my students. Everybody seems to like it. The only difficult thing about the book is that it's long, especially for a middle grade book. On the bright side, this is a perfect book for a young voracious reader who is looking for something a bit more challenging but isn't ready for the mature topics covered in YA books.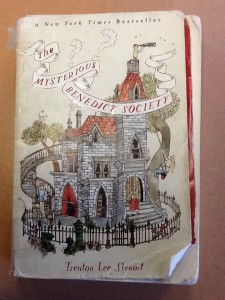 The photo to the right is my classroom copy of the book. Look carefully and you'll see how well "loved" this book has been by my students. Good thing we've got tape to hold this baby together. 🙂
Title: The Mysterious Benedict Society
Author: Trenton Lee Stewart
Genre: Mystery
Age group: Middle grade (10 and up)
Synopsis: Reynie Muldoon is a gifted orphan whose tutor suggests he respond to an ad in the paper looking for "gifted children." After taking an exceptionally peculiar exam, Reynie is welcomed into the "Mysterious Benedict Society," in which he and three other unusually gifted children must save the world from a crazy scientist obsessed with mind control.
Does it pass the "Home School Mom Test"? Yes. This book is safe for kids ages 10 and up.
The best part of this book is that the four main characters must solve all sorts of puzzles and riddles, and the readers get to play along with them. The book is part of a trilogy, and a prequel was just released a few months ago.
The series even has a fun website (here) with games kids can play, including one that tells you which of the four main characters you are most like. (In case you care, I'm most like Reynie–compassionate, caring, full of self-doubt, but a great team player. :))