On Thursday night, the Mystery Writers of America will host their annual banquet to hand out the Edgar Awards for the best mystery books of the year. A couple weeks ago, I made my predictions for the best YA mystery. This week, I'll make my predictions for best juvenile mystery. If you've forgotten the nominees, you can check out the list here.
My prediction will be a bit handicapped since I was unable to read one of the nominees. Try as I might, I could not find an available copy of The Quick Fix by Jack D. Ferraiolo at any of my local libraries. A month ago, I tried ordering it online. I tracked the package today only to find out that it was being shipped back to the seller after having made it all the way to one of my nearby suburbs. Ugh!
On the plus side, I did read The Big Splash, which is the precursor to The Quick Fix, so I have a good idea of what Ferraiolo's writing is like. It's good. The Big Splash was a fun kid-style noir with lots of kid humor. However, I think another of the nominees from this year will beat it out. My prediction for Best Juvenile Mystery is . . .
Three Times Lucky by Sheila Turnage!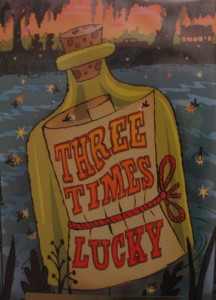 As I stated with the YA nominees, I really have no experience in making these predictions, but it's fun to guess. Here are three reasons why Three Times Lucky gets my guess:
The voice of this story is great. Where else has the narrator referred to herself as a "rising sixth grader"?

The ending wasn't predictable.
The characters are memorable. Don't you love spunky girls who are smart and funny?
We'll find out Thursday night whether or not I'm right. I'll post the winners on the blog as soon as I can.
Got your own predictions? Let me know in the comments below.