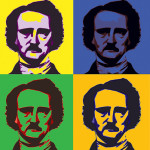 On May 2, the Mystery Writers of America will announce the winners of the 2013 Edgar Awards. Since I've read all the nominees for best YA mystery, I thought I'd share my prediction. In case you missed any of my previous reviews of the nominees, here are the links to refresh your memory.
Before I give my prediction, I should note that I have no experience doing this whatsoever. This is simply me. as a mystery fan, having fun making predictions, kind of like I do with the Oscars (except in this case, I've actually read all the nominees).
My guess is that the Edgar Award will go to Code Name Verity. Why? First, I heard a ton of buzz about it online from agents, editors, and YA book fans. It seems to be very popular among book people. Second, it's a World War II historical, and those books always appeal to large groups of people. Third, it has some good twists in the plot, some of which surprised even this avid mystery reader.
If Wein doesn't win it for Code Name Verity, my next guess would it be that it would go to Elizabeth George's The Edge of Nowhere. She's known for her Inspector Lynley series (adult novels) and has won other writing awards, including the Agatha Award for Best First Novel.
Of course, if it goes to any of the other nominees, that will simply prove I know nothing about predicting awards. 🙂 I'll post the names of the winners after they are announced on May 2.