The Sign of the Carved Cross is the second book in the Chime Travelers series. I suppose I really should have read the first book in the series before diving into book 2, but luckily, Lisa Hendey fills in enough details that if you missed book 1, you can still read book 2!
The Chime Travelers series is about a brother and sister who travel back in time and visit with saints. Their time-travel journeys start with the chiming of church bells.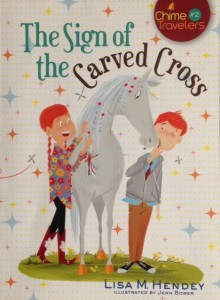 Title: The Sign of the Carved Cross
Author: Lisa Hendey
Genre: Mystery
Age group: chapter book (grades 2-4)
Synopsis: When a new girl starts at Katie's school, Katie joins her friends in excluding her from all their fun. But when Katie and her family help clean the church and the bells begin to chime, Katie is suddenly transported back to 1675. Tossed into a Native American village, Katie gets a sense of what it's like to be "the new girl." Luckily, she finds a friend in Tekakwitha, a young woman who knows what it's like to be an outsider. Tekakwitha has scars on her face from a terrible disease, and her uncle's family looks down on her for being a Christian. While Tekakwitha and Katie bond, things become worse in the village for Tekakwitha, and soon the girls are forced to run away in the middle of the night.
You may have guessed that Tekakwitha turns out to be St. Kateri Tekakwitha, the first Native American woman to be canonized. While I remember hearing about St. Kateri in school and I remember her being canonized in 2012, I really didn't know too much about her. This book is a delightful introduction to this beautiful saint. Not only is this a lovely, intimate way to learn about St. Kateri, but it's a fun read as well. Hendey keeps the story  moving along quickly, and young people will enjoy getting to know Katie and her family through this series. I love that the very "real life" problems of bullying and exclusion are worked so nicely into this story and in ways that children can easily relate to.
The book also includes discussion questions, a prayer in honor of St. Kateri Tekakwitha, and a prayer before receiving Communion. There are at least four books in the series out now. You can check them out here.
For news on my upcoming middle grade mystery and a chance to win a free copy, be sure to join my Insiders Club here.