For the Spin Cycle this week, Ginny Marie is asking us to answer ten questions about blogging. Here goes:
1. What do you love the most about blogging?
Being able to "converse" with people I don't get to see on a regular basis–or may never even meet in person!
2. How do you find the time to keep up with all the aspects related to blogging (posting, reading, commenting, responding, etc)?
I don't! LOL!
3. Does your family know about your blog and does this affect what you blog about?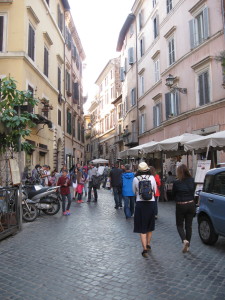 Yes. In fact, when I was in Rome last summer and blogging every day of my trip, one of my brothers set it up so that my parents could get my posts via email every day, so now Mom and Dad are subscribers to my blog. Everybody wave to Mom and Dad! 🙂
I don't think it really changes my posts because I've always used "If I wouldn't want my mom to read it, I shouldn't post it on the internet" as my golden rule for Internet usage. Did you know your my litmus test for blog posting, Mom? 🙂
4. If you didn't blog, what would you be doing with that time?
Uh . . . my to-do list is so long, I won't even begin to type it here.
5. Have you been in a blogging rut and how did you pull yourself out of it?
Not really a rut, but sometimes I don't blog because I simply don't have time. Like Gretchen over at Second Blooming, I sometimes come up with ideas for blog posts in my head. They just don't make it on the blog because I have too many other things to do.
6. Have you ever considered leaving the blogging world and why? What stopped you?
Once upon a time, I had a baking blog, but I gave that up to focus more on writing fiction.
7. Show some blog love: Name another blog that you adore.
Well, of course I read Lemon Drop Pie and Mayor of Crazyville, and I'm glad to have discovered the aforementioned Second Blooming. In the writing world, I wouldn't go without the blog of Literary Agent, Janet Reid. She's funny, informative, and very generous with her time in answering writers' questions. And I also really like the joint blog by my fellow ACFW young adult authors over at Scriblerian.
8. What's your favorite social media outlet for sharing your blog posts?
Facebook. But I try to tweet, too.
9. What's one thing you've learned about yourself since you started blogging?
My best writing comes when I let my fears go and just write from my heart, even if I'm scared by how people might react.
10. Any new blogging plans or ideas for the new year?
As you may have noticed on Monday, I'm going to try getting back to my Monday Book Reviews. I've got a whole line-up of books to read and review.
Want to see how others answer this week's questions? Check out the Spin Cycle by clicking on the link below: