So today was the big cooking day. If you're looking for the recipes, just go straight here: http://www.fabiolouscookingday.com/our-recipes
We met in the Largo Torre di Argentina area, which is the place of the four Roman temple ruins I talked about on Wednesday. (Also, the place where Julius Caesar was killed, by the way.) I thought I was going to be late because I headed out of the apartment, only to realize it had just started raining and had to run back in to get the umbrella. By the time, I arrived at Largo Torre di Argentina, I was nearly out of breath, but I need not have worried.
Only one other woman was there. She was originally from Austria, currently lives in Australia, but has also lived in London and Japan. For the purpose of this post, let's call her Ellie. Ellie and I hit it off right away. I found out later she has a daughter about 6 years younger than me (although she paid me the compliment of saying she thought I was her daughter's age), so I think I kind of reminded her of her daughter.
She was also traveling alone, having just visited some old friends in her home country of Austria. Out of eight people who signed up for this class, we were the only two to arrive on time–and I just barely made it! The chef, Federico, greeted us and welcomed us into a nearby coffee shop to wait for the others. He also introduced us to his two assistants.
After twenty minutes, another couple finally arrived. An Israeli woman married to a Scottish man, who had lived in California but currently resided in Israel. At this point, Federico took us out to the market. He left one of his assistants behind to wait for the remaining four students.
At the market we bought two kinds of fresh tomatoes: grape tomatoes and a larger kind they call casalino. Before we were done, Federico's assistant had found three of the four missing students. They were a dad and his two teenage children. The eighth person never showed up. Got to admit it was a little shocking that none of the latecomers had called to say they would be late. We were all given Federico's cell phone number ahead of time.
Anyway, next up we stopped at a cheese shop to pick up some fresh ricotta.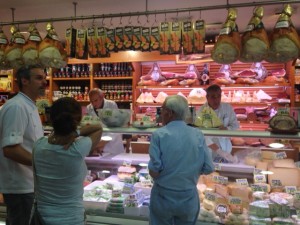 And then finally a butcher to buy some veal (vitello).
Next we headed over to a private apartment that is used only for cooking classes and private parties.
We made three types of pasta. First was a zucchini ravioli. (My favorite of the three.)
Then we made fettuccine with a fresh tomato sauce.
Then strozzapretti with mushrooms. ("Strozzapretti" means "choking priest" in Italian. Not sure if I even want to try to figure out what that one means.)
Then we made veal with a lemon sauce.
Finally, we had strawberries marinated in balsamic vinegar with cane sugar and mint. We didn't have to make that. We just enjoyed it!
After class, Ellie and I spent the early part of the evening doing some shopping in the Spanish steps neighborhood. We had a great time together, and I feel blessed that God made the two of us end up in the same cooking class. Interestingly, we had both tried to get into a different cooking class first, but ended up in this one.
When we said good-bye tonight, she gave me a big hug, told me how much fun she'd had with me, and that she'd never forget me. There's too much for me to explain in this blog post, but let's just say I don't think I'll ever forget her either. Isn't it amazing how God sends new friends into our lives just as we need them? I wonder what the "God of Surprises" has in store for me next.