It's time to start reviewing this year's nominees for the Edgar Award for best juvenile mystery! First one up is a historical mystery that takes place in the Nevada Territory during the time of the Civil War.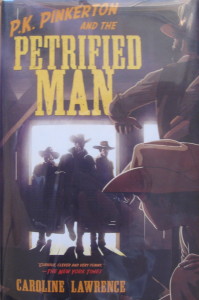 Title: P.K. Pinkerton and the Petrified Man
Subject: Caroline Lawrence
Genre: mystery
Age group: middle grade
Synopsis: Twelve-year-old P.K Pinkerton has just opened his own detective agency in Virginia City (Nevada Territory). A young former slave girl asks for his protection. Last night, she witnessed the murder of her mistress Short Sally, a local "Soiled Dove" (prostitute). Now she's worried the murderer is after her to keep her quiet. P.K., with his autistic-style "eccentricities," decides to take on the case.
Ms. Lawrence creates a great voice for the character of P.K. Pinkerton. Although the word autism is never used, any teacher familiar with some of the common traits of autism would be quick to catch on. P.K. has trouble reading people's facial expressions, and he always tells the truth to the point of being blunt.
I also enjoyed some of the historical aspects of the story, from the references to the far-off Civil War to the inclusion of Sam Clemens (a.k.a. Mark Twain).
Many of the parents who read this blog want to know about age appropriateness, so I'll reveal that the swear words are fairly PG. Since we're dealing with the "wild west," you'd expect a lot of the adult males to curse. "Hell" is written as "h-ll" and "damn" is written as "dam." Any further swearing by adults is simply described by P.K. as "profanities unfit for publication."
Some parents may also be concerned about the fact that the murder victim is a prostitute. The word prostitute is never used in the book. Instead, the women are described as "Soiled Doves" who accept "Gentleman Callers." Parents will have to decide how comfortable they are with that.
As a member of the American Christian Fiction Writers, I always find it interesting when "secular" books include the Christian faith. P.K. describes himself as "50% Lakota Indian but 100% Methodist." The Methodist minister in the book is painted in a favorable light, and P.K. does resort to prayer on several occasions in the book. The inclusion of his faith was woven rather seamlessly into the story and seems historically appropriate for the time. (Side note: I can't imagine trying to be a Christian minister during a time and place where such lawlessness prevailed. They had their work cut out for them!)
Overall, I enjoyed the mystery. The chapters are short, and Ms. Lawrence does a great job of leaving little cliff hangers at the end of each chapter.
Will it win the Edgar Award for Best Juvenile Mystery?  I don't know. I've got several more nominees left to read!