Looking for a great young adult story filled with chills? Check out this delightful Chicago-based novel from one of my favorite local authors, Candace Fleming.
Author: Candace Fleming
Genre: scary story (but not too scary)
Age group: young adult/late middle grade
Synopsis: While driving home after midnight, high school junior Mike Kowalski suddenly sees a strange girl in his headlights. She's dripping wet, and her skin glows like white marble. Mike's late for his curfew and his mom's gonna kill him, but he can't leave this girl out alone on a dark road. When he offers her a ride home, he discovers that "home" is a Chicago cemetery. Inside the iron gates of the cemetery, Mike discovers a world of ghosts who need to tell their stories in order to "rest in peace."
I met the author Candace Fleming at a writing conference while she was working on this book. She's extremely funny and talented, and I learned a great deal from her. She even critiqued a piece I was working on at the time, and I think she's the first person to ever tell me I had good "voice" in my writing. (Yay!) I also remember her saying that because she wrote mostly picture books, she was worried what her editor would think when she handed in this, her first YA manuscript, and realized how "dark" she could be.
The book is a fun collection of legendary ghost stories, some of which you may have heard in some version or other in the past. I love how Ms. Fleming weaves particular Chicago settings into some of those stories. While it may be much "darker" than her  picture books, I don't think there's anything parents need to be worried about in letting their teen or older tween read this book. These are just great "ghost stories" retold by one of my favorite authors.
Before I close, can I tell you how lovely of a person Candace Fleming is? Like I said, I met her first at a writing conference, but then I saw her again a couple years later at an International Reading Association conference. I got in line to get a few books autographed, and when I stepped up, she read my name tag and said, "We've met before, haven't we?" She remembered me!
Then when I told her that I'm pretty sure this book was the one she was working on when we'd first met, she said, "Yes, it is!" and you can see how she autographed it for me below.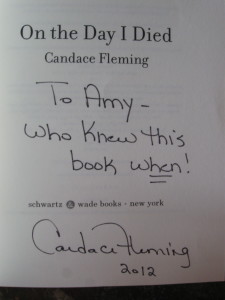 You can learn more about Candace Fleming and her books on her website. I particularly recommend her picture book Gabriella's Song (the ending of which has been known to make my sister-in-law cry) and her middle grade book The Fabled Fourth Graders of Aesop Elementary School.