I first read A Wrinkle in Time when I was in junior high. It fascinated me. Never before had I read a story that took me to worlds so vastly different from my own. Years later, I still love it, and kids today find it as entrancing as I did. If you've never read this Newbery Medal winner, do yourself a favor and check it out.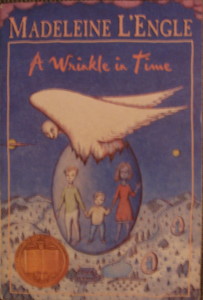 Title: A Wrinkle in Time
Author: Madeleine L'Engle
Age group: middle grade
Genre: speculative fiction (part sci-fi, part fantasy)
Synopsis: Meg Murry's life can't get much worse. She's been dropped to the lowest level in class, her dad's gone missing, and her mom acts like everything's going to be fine. During a storm one night, a strange woman named Mrs. Whatsit enters the Murry home. Mrs. Whatsit tells Meg, her brother Charles Wallace, and her mom that there is such a thing as a tesseract (a wrinkle in time that allows for time and space travel). Meg's father had been experimenting with tesseracts when he disappeared. Now it appears her dad's life is in danger, and Meg must head out with Charles Wallace and her friend Calvin in order to rescue him.
This is a hard book to describe, and I really don't want to give too much away. Half the fun of this book is the surprises. All I'll say is that L'Engle creates vivid characters and settings that are hard to forget even years after first reading the book!
And yes, I have multiple editions. Which cover do you like best? The one on the left is more all-encompassing for the story, but the one on the right has a more modern, Harry Potter feel to it.