As a single person, it's easy to get disgruntled on Valentine's Day. Already this morning, my Facebook feed is filled with all my married friend's posts about the chocolate, cards, books, flowers, and jewelry their husbands have given them today. (Side note: you know you have a lot of author friends when their husbands give them books for Valentine's Day.)
For the Spin Cycle this week, Ginny Marie is giving us a Valentine's Day prompt with a twist: simply put, what do you love? (Notice it's not "Whom do you love?" So I'll refrain from telling you how much I love my friends and family. 🙂 )
I love . . .
1. My new Jamberry nail wraps for Valentine's Day. Aren't they pretty? Got lots of compliments from my students yesterday.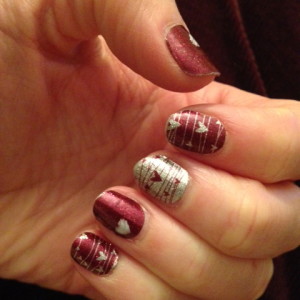 2. Mystery books. Please, oh please, oh please, surprise me in the end.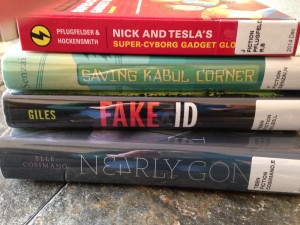 3. Italian food. What's not to love about some pasta? You can do so many things with it. Mix it with some cheese, tomato sauce, and spinach. Or maybe some sausage and broccoli. Or maybe some zucchini, squash, cherry tomatoes, and cheese. Yummy, yummy, yummy! And to go with it . . .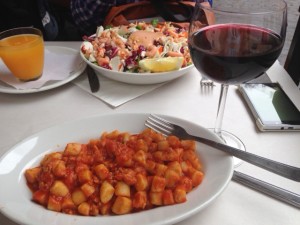 4. A nice glass of wine. I'm pretty non-discriminating when it comes to wine. White. Red. Rose. Sparkling. Whatever. As long as it's not an overly oaky Chardonnay.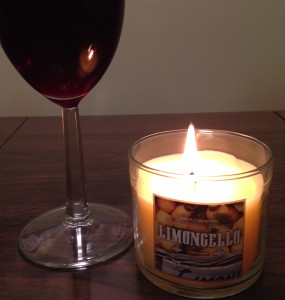 5. Traveling. Have I told you about my upcoming trips? Guatemala for spring break. Italy and Spain this summer! Dallas for a writing conference in September. Then New York in November for my investiture into the Order of Malta!
6. Italy! Don't worry, Mom! I'm not moving there.
7. A nice cup of tea. This is one of the reasons I adore the Brits. They appreciate a good tea time.
8. Running on a warm day. (Please let that warm weather return soon.)
9. A really good story. At first I thought about writing my post just about this fact. You see, there's a certain movie out this weekend that everyone who blogs seems to be mentioning (and criticizing). I won't be seeing it. I never read the book. I'd heard about it fairly early in the game because its quick rise to fame was making waves in the publishing world: Twilight fan fiction that had gained popularity and then a publishing contract and now a movie. However, every literary agent and editor who blogged about it back then said right away how poorly written it was and that it lacked a real plot. Why would I spend my time on that? There are too many good stories out there. And that's what I love: a good story. Which brings me to number 10 . . .
10. Musical theater! A good story combined with beautiful music and breathtaking dancing. You gotta love it!
So guess what I'm doing tonight for Valentine's Day? My plans, I'm pretty sure, must be a sign of God's sense of humor. You see, my friends and I have season tickets to a local theater company, tonight happens to be our night for the current production, and the show just happens to be . . . West Side Story! That's right, for Valentine's Day, I'm going to see one of the saddest love stories in the history of musical theater. Ha!
But still, I count myself as lucky. On this day when we remember our loves, I get to a do a lot of things I love. I'm wearing my pretty Jamberry nail wraps. I've already had a nice cup of tea. I'll get to do some mystery reading later. Then I'll enjoy a nice Italian dinner with my friends. (I'll have that glass of wine, of course!) And then I get to see some musical theater with beautiful music, dancing, and a good story to boot!
Whatever your plans are for today, I hope you do something you love!