As my writing career has progressed and I've watched more and more author buddies get their headshots taken, I've enjoyed hearing about how their headshots came to be. I always assumed most writers had their headshots taken by professional photographers in a studio, like most actors do.
You can imagine my surprise by the number of authors I've met who have had theirs taken at parks, at writing conferences, or even in their own homes. While a good number have used professional photographers, I've learned that quite a few have used their husbands or siblings for photographers. And some brave souls have even done selfies!
When my book Angelhood was accepted this spring, I knew I'd need a real headshot. Not one for selfies, I figured I'd use a professional photographer; however, I signed my contract just before leaving for a pilgrimage to Rome. Things got busy with last minute packing, and I realized finding a photographer would have to wait until after Rome.
As part of the pilgrimage group I was on, we made an overnight trip to Assisi. As a few of us rambled through the tiny hillside town, my roommate (who had a really nice camera with her) stopped to take a photo of a very picturesque little street. It was really more of a narrow alley with a beautiful view of the valley below.
On my pilgrimage group was a guy we'll call Armando (not sure if he wants his real name used). Armando enjoyed stealing borrowing my roommate's camera to take pictures. He decided to "borrow" her camera and take her photo in front of this picturesque street. In fact, he ended up taking pictures of several of us in front of that beautiful view, and it turns out Armando's a good photographer!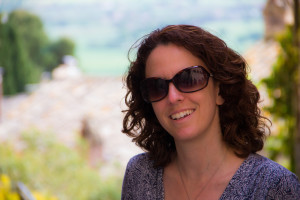 Unfortunately, I had my sunglasses on for the photo. Not really the look you're going for in an author headshot. When I mentioned my regret about leaving the sunglasses on a couple days later, Armando told me we'd try again.
The chance came the next day. We were waiting outside the Scala Santa in Rome across the street from St. John Lateran Church. Armando recognized an opportunity, and he fired off a couple more shots.
After sharing these three choices on Facebook and asking for people's votes, I went with the one on the left. It might not be my all-time favorite photo of me, but there are several things about it I like.
The coloring's nice. Not quite as pretty as the Assisi one, but still nice.
It's in front of a church, and not just any church. Engraved in Latin on the front of the church is the phrase "The Mother of all churches." It is the home church for the Bishop of Rome (a.k.a. the Pope).
If you look closely, you'll see I'm wearing two necklaces of importance to me. One is a cross that I received as a gift from my students at my last Catholic school. The other is a guardian angel necklace that I bought in Rome on the day of the Canonization Mass of St. John Paul II and St. John XXIII. Engraved on the necklace in tiny script is the Italian version of the guardian angel prayer. Pretty appropriate since my upcoming YA book is about guardian angels!
Have you ever had a headshot taken? Where was it done? Did you hire a professional?