A couple weeks ago, I had the pleasure of meeting Lin Oliver, the author of the Fantastic Frame series, at an SCBWI meeting. (SCBWI stands for Society of Children's Book Writers & Illustrators.) In fact, Lin is one of the co-founders of SCBWI, so it was cool to hear how the group came to be and how Lin has worked in the television and film industry all the while hoping to become a children's book author. If you recognize her name, it may be because she's co-authored a ton of children's books with Henry Winkler, a.k.a. the Fonz.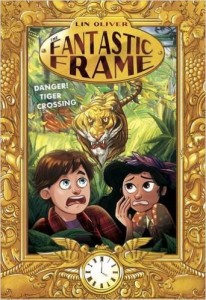 Title: Danger! Tiger Crossing (The Fantastic Frame #1)
Author: Lin Oliver
Genre: fantasy
Age group: chapter book (grades 1-3)
Synopsis: Ten-year-old Tiger Brooks has just moved into a new neighborhood. He lives on the lower level of a duplex with a friendly girl named Luna Lopez living upstairs and a "crazy" old lady named Viola Dots living next door. When Tiger sees a talking, top-hat wearing Pig disappear into Viola's house, he and Luna decide to investigate. Inside, they discover that many years ago Viola's thirteen-year-old son disappeared inside a painting that had been hung in a fantastical frame. Tiger soon discovers that the frame has an "hour of power," during which you can step inside whatever painting is inside that frame. Before long, he and Luna are sucked into the same painting that Viola's son disappeared into. Now they need to find Viola's son and bring him back home to his distraught mother.
Art lovers will probably really enjoy this series as Lin Oliver introduces a new famous painting into each book in the series. As you can imagine, Tiger and Luna head into each painting in order to find Viola's son, but something always keeps them from bringing him back.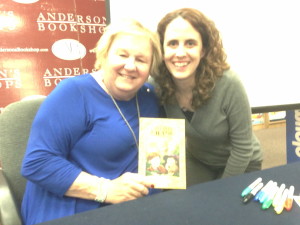 This story is cute and a very fast read. I think I read it in a half hour. As someone who reads and writes middle grade and young adult, I'm afraid I just don't know enough about chapter books to do any kind of fair comparison for you, but the concept behind this series is a fantastic one, and art lovers will definitely enjoy it!
It was great fun meeting Lin, and I wish her the best of luck with this series!