And you thought this trip was over?!? 🙂
Saturday morning I took a cab ride from Loyola to the small bed and breakfast I was going to stay in for one night. And when I say small, I mean three rooms and one tiny kitchen.
Finding the location was a bit hard. I had the address right, and there was a sign outside, but inside it just looked like a condo building. The sign outside said it was on the second floor. So I took the elevator up, but on the second floor, I could only find condos that looked like people's homes, not a B&B. So I went back downstairs and found a man sweeping the floor who showed me how to find the call button for the B&B. The woman ran down and took me across the street. Apparently, the one building is just where the owners live. Their tiny B&B is in another building.
I left my luggage there and then headed out quickly as I had a tour group to meet. I had booked a catacombs and Appian Way tour that left at 10:00 in the morning. Our tour guidewas a woman who was originally from Orlando but had moved to Italy in her early 20s.
---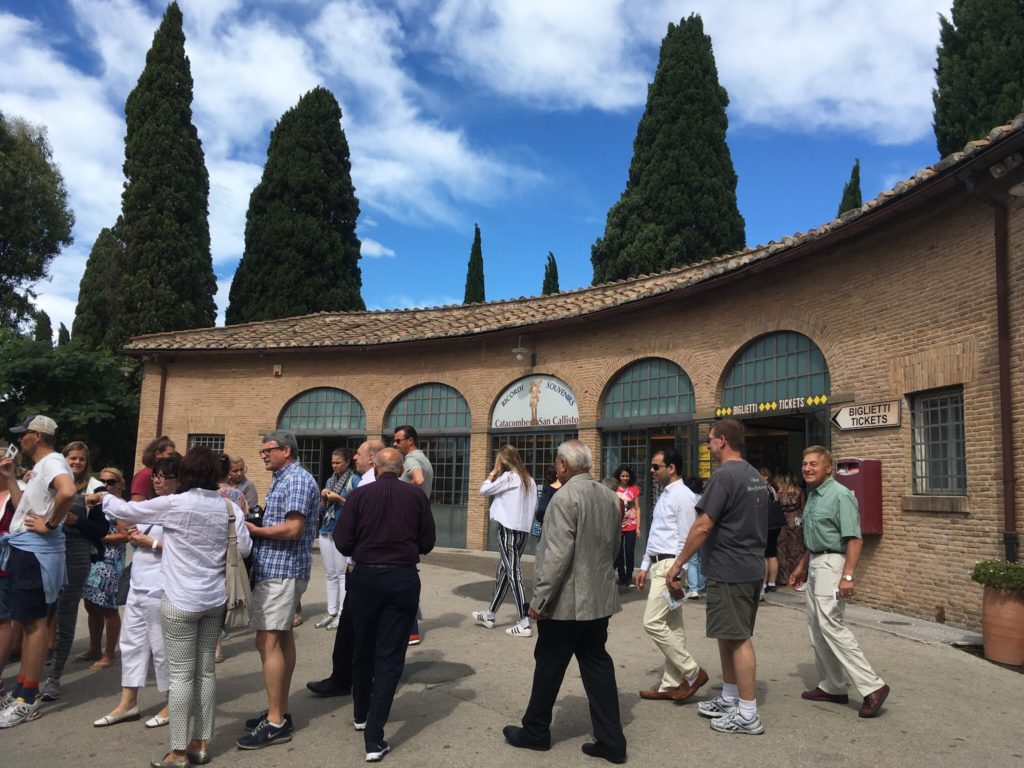 We could not take pictures inside the catacombs, but I got to see where they had found St. Cecilia's incorruptible body before moving itto the basilica that was built over her family home. Interestingly, they had a copy of the statue of St. Cecilia that is in the basilica. It shows the position St. Cecilia was in when they found her body. She had three fingers held up in one hand and one finger in the other to show her belief in the Trinity.
After visiting the catacombs, we got to walk part of the Appian Way, which is the same street Spartacus and St. Peter walked. You might remember the story that St. Peter was walking on this street when Christ appeared to him and said he was going to Rome to be crucified a second time, indicating how St. Peter would die.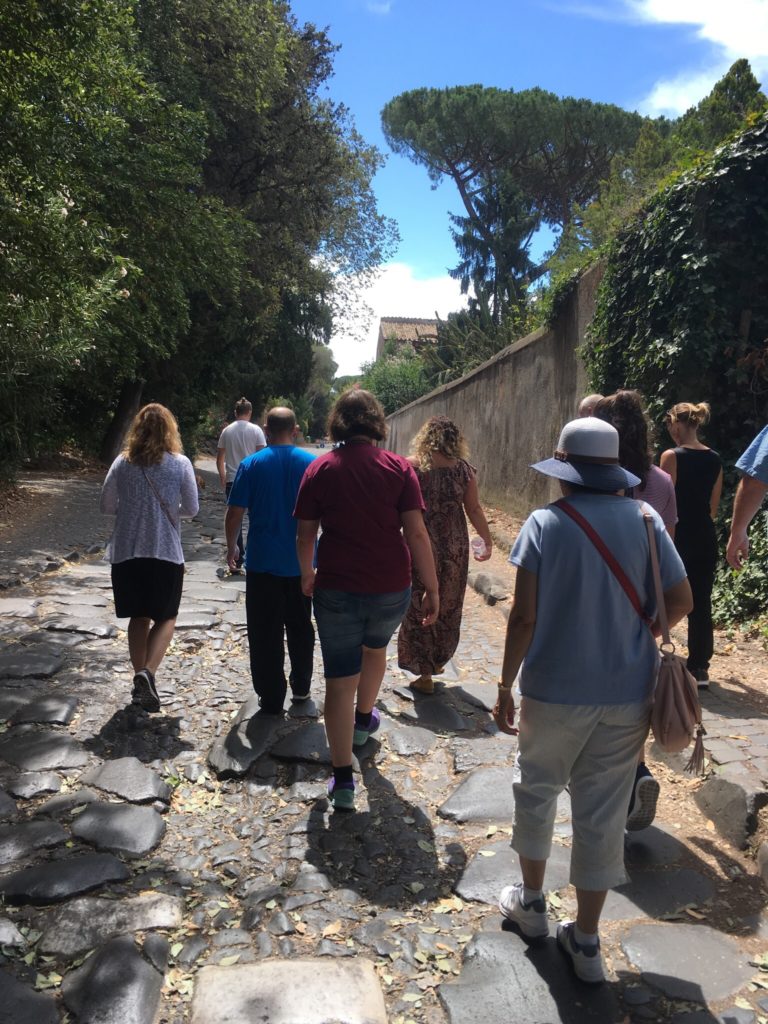 We also saw some remains of the ancient Roman aqueducts.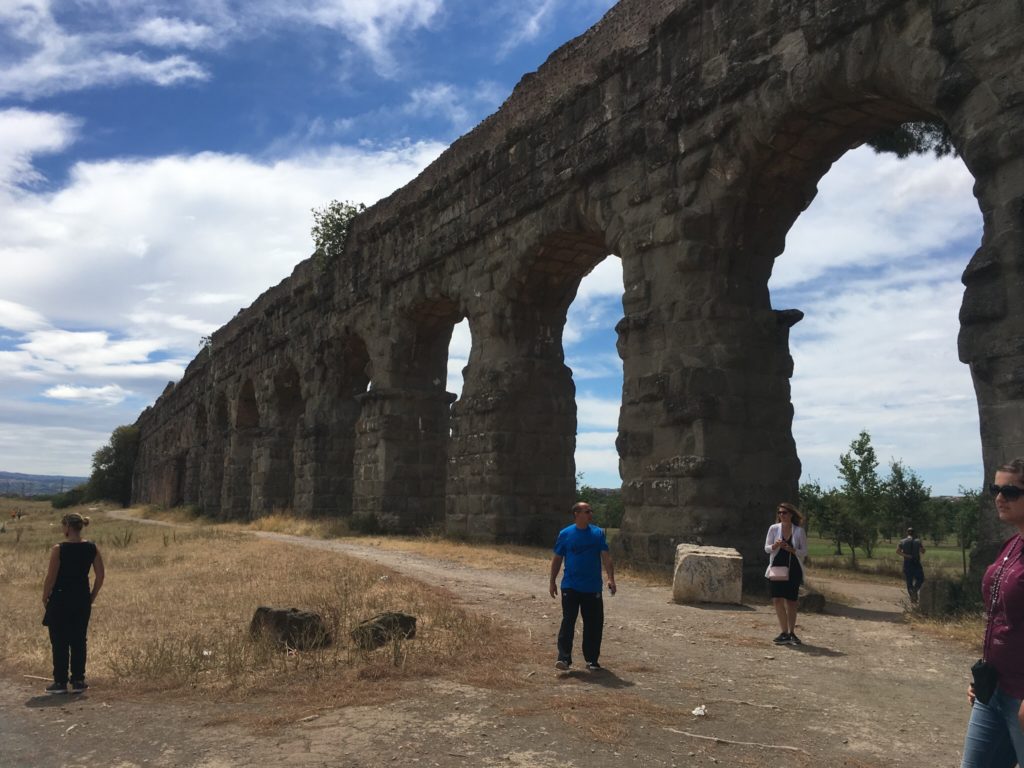 Saturday night, I met up with one of my Loyola classmates who was still in town waiting for her family to join her on Sunday. The two of us enjoyed a really yummy dinner not too far from Piazza Navona.
Sunday morning, I slept in a little and then went to 11:00 Mass at St. Ann's church in the Vatican. Did you know St. Peter's isn't the only church in Vatican City? St. Ann's (Sant'Anna) is just north of St. Peter's Square. It's a small but very beautiful church and makes me feel more like I'm in a home parish than when I go to Mass at St. Peter's.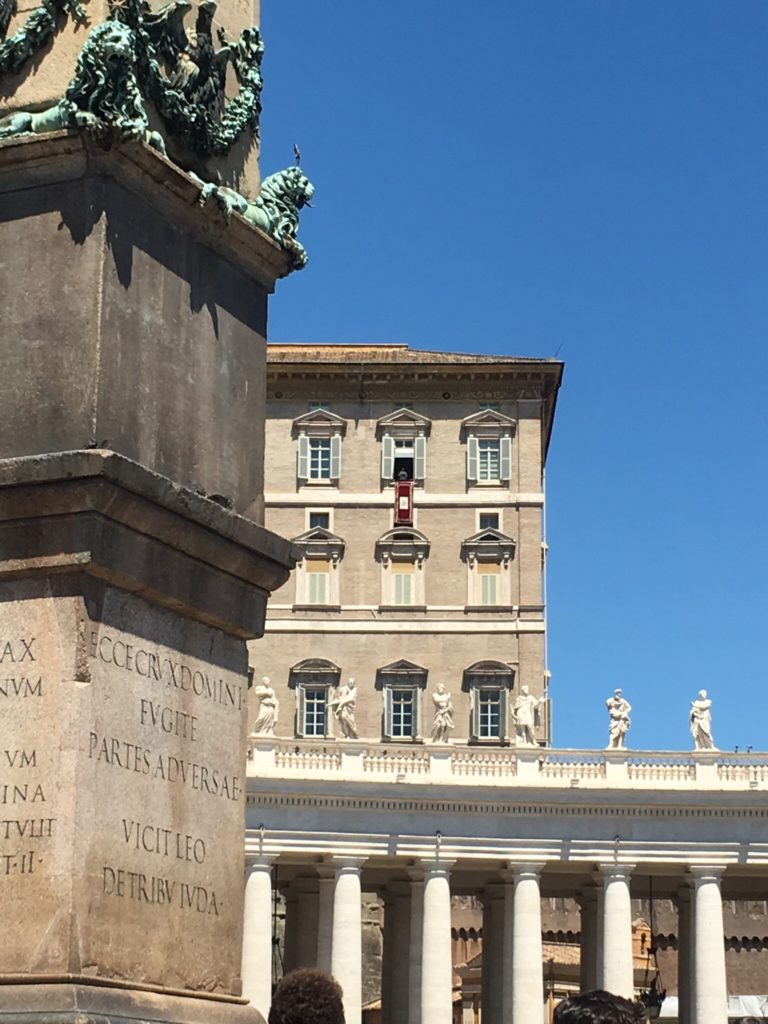 Right after Mass, I saw Pope Francis give his Sunday Angelus. After the talk and prayers, he mentioned the attack in Nice, France, and said something about being close to the people in their tragedy and praying for them. Of course, he ended as always by asking us to pray for him and wishing us a good lunch.
Then I took the bus out to one of the seven official pilgrim churches of Rome, St. Lawrence Outside the Walls. It was a rather long bus ride, and my map directions for finding the church weren't quite right. I saw what looked like a church, but the map had me walking up this hill, so I followed the directions and ended up in a large cemetery!
Finally, I found a way out and discovers that what I had suspected was the church really was the church. Lesson learned: follow your gut instinct, not the GPS system. Unfortunately, the church was closed when I got there. Second lesson learned: my attempts to be spontaneous don't seem to end well.
A long bus and Metro ride brought me back to the B&B, where I picked up my luggage. Another bus ride brought me to my usual apartment in Rome. Those of you who have followed along for a while know that this apartment is up on the sixth floor, which is really seven floors up. My Roman landlady had texted me earlier that the elevator wasn't working, so when I arrived, we took the two ends of my giant suitcase and lugged that puppy up floor by floor!
On the way up, she said something about it being good for us and no cholesterol in our blood!
Once inside, we chatted for a bit about my classes at Loyola. She only speaks Italian, so I'm really forced to practice here.
It's getting to be about dinner time now, so I'll probably head out in a bit. I'll write again on Monday night. We'll see what level Italian they put me in tomorrow.