This week Ginny Marie is asking us to write about traveling for the Spin Cycle. Great! I love to travel. In fact, I'll be heading to Guatemala for spring break, and if I can get wifi down there, I'll probably even doing a little blogging.
But for this week, Ginny has given us a choice of several travel questions to answer. Here are my responses:
1. Would you rather take a road trip or fly?
I enjoy both as long as the road trip doesn't involve day after day of long drives. I just can't sit still for that long.
2. Where is your favorite place to travel?
Duh! Italy! In fact, my poor mom worries I'm moving to Italy. (Don't worry, Mom! I'm not moving to Italy!) That being said, I would like to go back and study more Italian there this summer. I've got to get it in before starting on the doctorate in the fall. I fear once the doctorate work begins I'll have no time for learning Italian, and I'd really like to master one other language. I never really got there with German.
Besides Italy, I really love England. I'd love to take a summer class in creative writing at Oxford some day. Maybe after the doctorate. 🙂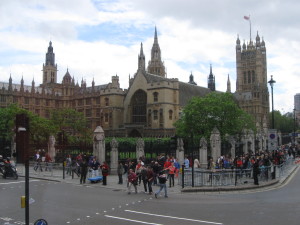 I'd also love to return to Germany and Austria. Maybe once my teaching career is over, I can go to Germany during Oktoberfest and for the Christkindlmarkts at Christmas.
3. What is your favorite activity to do while traveling? Do you like to read, sleep, listen to music, or play games?
All of the above! Mostly, I like to see new places and/or experience a different culture. I think this is why I'm looking forward to Guatemala so much. The furthest south I've been is Cozumel, Mexico, and that was a brief stop on a cruise. I'm looking forward to experiencing Latin American life and seeing a rainforest for the first time.
4. Is there a place you would travel to just for the food?
Um . . . Italy?
Pictures speak a thousand words.
5. When you leave your house for vacation, is it messy or clean?
I try to leave it clean, but that doesn't always happen. At the very least, I make sure there aren't any dirty dishes left in the sink or dishwasher and no trash in the garbage.
6. What is one thing you would never travel without?
Credit card! LOL! And now that I have a smart phone, I wouldn't travel without my smart phone. Seriously.
7. Would you rather have a relaxing vacation or have activities planned from morning 'til night?
I like a mix of activities. I want to see a lot, but I don't want to be so worn out that I can't take anything new in. That's why I really had a good time in Italy last summer. I had Italian language classes in the morning, then my afternoons free. Sometimes I did schoolwork, sometimes I visited churches or museums, sometimes I just rested back at home. In the evening, the school had optional activities. It was a nice mix of learning, touring, and relaxing.
8. If you could photograph (or see) any place in the world, where would you go?
Besides going back to Italy, England, Germany, and Austria (and my upcoming trip to Guatemala), I'd really like to see Alaska, Hawaii, and Australia some day. However, I have to admit, I'm totally dreading the flight(s) to Australia.
How would you answer these questions? Post your answers on your blog and link them up to the Spin Cycle by clicking on the button below.