As October is the month of the rosary, it seems like the perfect time to give away another rosary blessed by Pope Francis!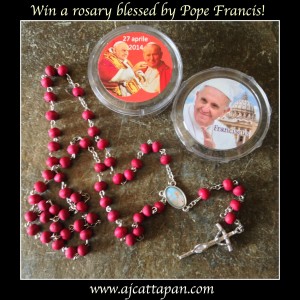 Like the first one I gave away, this one was bought while I was in Rome for the Canonization of John Paul II and John XXIII and was blessed by Pope Francis!
Here are the rules to enter:
Follow me on Facebook.
Comment on either this blog post or one of the October Facebook posts with the same image as shown above.
Live in the U.S. or Canada so that I can mail the rosary to you.
Contest is open from October 1 until October 7, 2014.
And don't forget to check back tomorrow when I reveal the cover of my upcoming YA novel Angelhood about a reluctant guardian angel named Nanette.