The full title of this book is Nick and Tesla's Super-Cyborg Gadget Glove: A Mystery with a Blinking, Beeping, Voice-Recording Gadget Glove You Can Build Yourself. Whew! How's that for a title! It's the first of my 2015 Edgar-nominated books to review.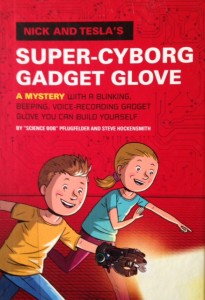 Title: Nick and Tesla's Super-Cyborg Gadget Glove: A Mystery with a Blinking, Beeping, Voice-Recording Gadget Glove You Can Build Yourself
Authors: "Science Bob" Pflugfelder and Steve Hockensmith
Genre: mystery
Age group: middle grade
Summary: Twins Nick and Tesla Holt are named after the famous (although really not as famous as he should be) engineer and inventor Nikola Tesla. The eleven-year-old twins are staying with their Uncle Newt, a scientist asked to fix a brand-new interactive display of animatronic representations of famous scientists at a local museum about to have a grand re-opening. However, someone seems set on ruining the museum's celebration. When Uncle Newt and his friend Hiroko think they've got everything ready, they activate the animatronic version of Nikola Tesla to give it a test run. At first, everything seems fine, but suddenly all the robotic-like figures start talking at once, and then at high speed until a beaker flies out of Louis Pasteur's hand, Charles Darwin's head falls off, and everyone is suddenly plunged into darkness. When the lights come back on, Uncle Newt and Hiroko work on repairing the broken robots while Nick, Tesla, and their two friends decide to investigate who is out to ruin the museum's big night.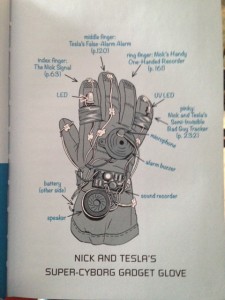 While Nick, Tesla, and their friends work on the mystery, they decide they need a special glove to help them. At first, the glove needs an LED light that can be activated by touching two fingers together. Later, they need to record someone talking, so they add a small recorder to the glove. As the mystery progresses, more devices get added to their super-cyborg glove. What makes this more fun is that the directions for the glove are included in the book so that kids (with the help of their parents) could actually build their own super-cyborg glove if they wanted to.
The mystery part of the book is pretty fun, too. While I may have predicted what was going to happen at times, I think the ending would surprise most young readers, and I definitely think the authors captured the voice of eleven-year-olds pretty well. (Seeing as I spend my days with eleven and twelve-year-olds, I like to think I know what they sound like!)
A fair warning to parents who don't like adult characters to seem "stupid": Nick and Tesla's Uncle Newt is kind of your stereotypical "mad scientist." He's brilliant with his science, but lacks a bit of common sense, and he's definitely not good at keeping an eye on his niece and nephew. They are allowed to roam the museum unsupervised because he's too distracted fixing the museum display.
That being said, it's really nice to see woman and girls portrayed as being not only interested in science but also very good at it. Uncle Newt's friend Hiroko is a smart, female scientist, and Tesla is a bright young woman who makes for a strong heroine and counterpoint to her more cautious but still smart twin brother. I would recommend this book to those in grades 3-6 who like mysteries and/or are interested in science.