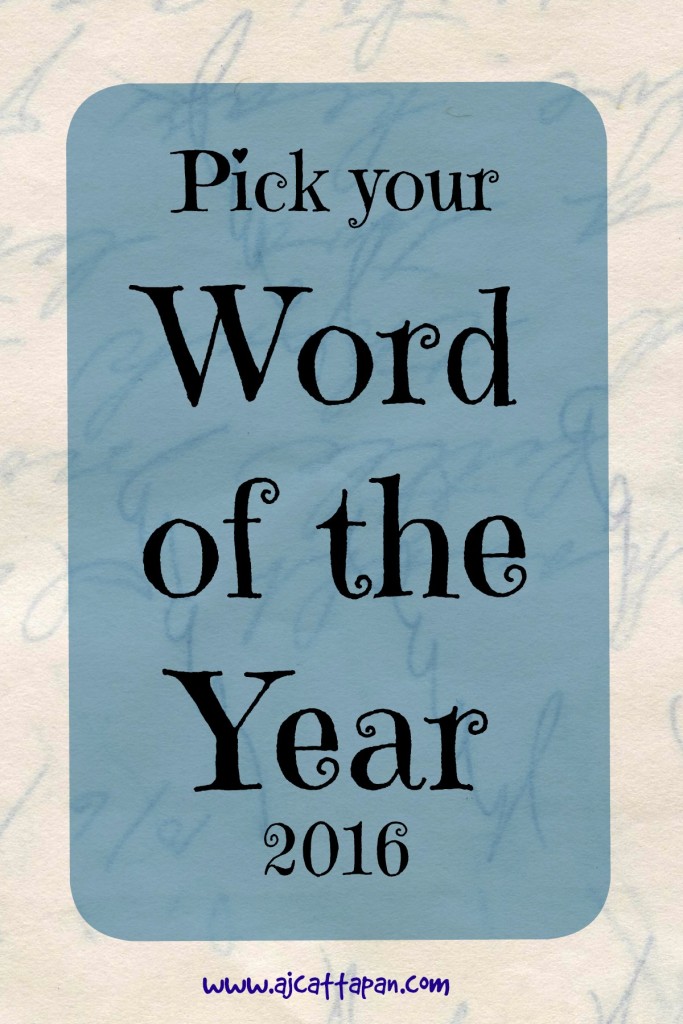 If you've been around the blog for a few years, you may have seen my previous posts about picking a word of the year. Instead of making a list of new year's resolutions, I choose one word to focus on. Whenever I feel like I'm losing my way or need a little guidance, I think of that word and it brings me back into focus.
My first year, I picked the word optimism. I wanted to shake off the negative feelings I'd had toward my writing career and think positively. I think it helped a little because 2013 was the year my first Chicken Soup for the Soul piece was printed, and then at the very end of the year, I decided to give my young adult novel Angelhood one last try.
For 2014 my word was trust. I had just finished revisions to Angelhood and decided to submit it to one last publisher at the start of the year. I was going to trust that whatever God had planned for it would work out fine. Well, a few months later, I got the acceptance email from Vinspire. I also worked a lot at trusting God about getting me to Italy that year, and in fact, He got me there not once but twice, but that's a whole other story!
For 2015, I picked the word grace. I knew many things were going to happen in 2015 that would incur a lot of stress and require a lot of grace from me. My book launched, and I had to keep reminding myself to handle all the new-found attention with grace. How do you promote your book but not come across as obnoxious about it? I prayed for lots of grace, and I hope I succeeded. Then my mother passed away, and I started a doctorate program while still teaching full time. Lots more grace needed. My mom had lots of grace. I hope I inherited a little from her.
For 2016, I have chosen the word mercy. Yes, I was inspired by Pope Francis declaring this the year of mercy, but I think it will be good for many reasons. It will remind me to perform works of mercy toward others, but also to have mercy with myself. With trying to juggle teaching, a doctorate program, and writing, I tend to beat myself for not doing more. Can you believe it? I feel like I'm not using my time wisely enough. I should spend less time on social media. More time writing. Less time fretting over my own homework. More time being with people. I need to give myself a break. Yes, mercy toward others, but also mercy toward myself when my perfectionist tendencies start to rear their ugly heads again.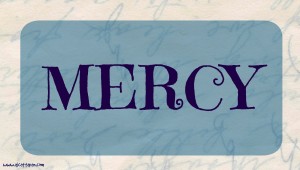 Now as for the "Good News" jar . . . if you haven't heard of it, it's simply an empty jar that you use to collect your "good news" throughout the year. It can also be called a Blessings Jar.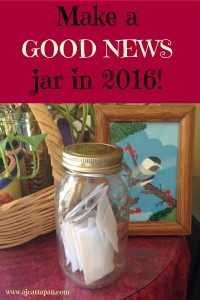 All you have to do is write down something good you heard about or that happened to you that day and put it in the jar. Last year, I started off doing a great job with this, but after my mom fell and my book came out, I started to ignore the jar. A few times I thought of something good to write down, but then I realized I hadn't cut up any more slips of paper to write on and I'd be too tired, so I'd just forget about it.
So this year, I'm pre-cutting lots of slips of paper! Bring on the good news in 2016!