While searching for a gift for one of my younger nieces, I came across this New York Times bestselling book. Not sure what to expect, I was pleased to find a fun story that empowers girls to be all that they can be.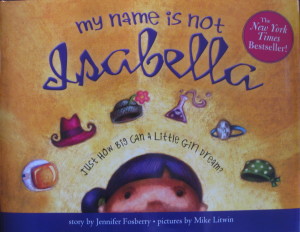 Title: My Name is Not Isabella

Author: Jennifer Fosberry
Synopsis: Throughout the day, young Isabella pretends to be a different woman from history. At one point, she's civil rights activist Rosa Parks. At another point, she's Sally Ride, the first American woman in space. After being a variety of different women throughout the day, she decides at night to be herself. After all, she's pretty cool already.
I loved seeing which inspirational woman from history Isabella was going to pretend to be next. Fosberry did a great job playing with language in the book, too. For example, when Isabella pretends to be the famous sharpshooter Annie Oakley, her mom replies, "Well, Annie, ride on over here and eat up. These are some fine vittles and every cowgirl needs a proper meal."
And in case your little girl is unfamiliar with this women who changed the world, there are brief biographies of each at the end of the book.