A couple years ago, I posted one of my Monday Book Reviews on Fablehaven by Brandon Mull. The book first came to my attention because it was reviewed in a newsletter by a bookseller who had (in that same issue) included an article I wrote about how I use contemporary fantasy novels and classical mythology to teach the concept of a hero story.
If you're not familiar with Mull's Fablehaven series and you're a fan of middle grade fantasy, I recommend you check them out. I've found that many of my students who are fans of Harry Potter or books like A Tale Dark & Grimm have really enjoyed this series.
Thus, when the publisher emailed me and invited me to take part in the blog tour for The Caretaker's Guide to Fablehaven, I was very excited. For my participation, I received a free NetGalley copy of the book.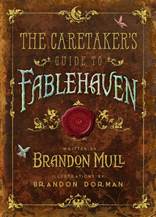 The Caretaker's Guide to Fablehaven is akin to Fantastic Beasts and Where to Find Them from the Harry Potter series. In other words, instead of a story, what we have here is a book detailing all the fantastical creatures one might run into at Fablehaven. In alphabetical order and with beautiful illustrations, each creature is described, along with how you should best interact with them, especially if you end up being their caretaker!
Unfortunately, because I was looking at a NetGalley copy on my iPad, the gorgeous illustrations didn't always line up quite right with the descriptions; however, if you head over to Amazon and look at the sample pages, you'll see that this is clearly going to be a beautiful book when it comes out in hardcover, which officially happens . . . oh, that's right, TOMORROW!!!!
So happy early release day, Brandon Mull! And happy reading to all you fans of Fablehaven!