I won this book in a giveaway and was happy to do so since it's from one of my fellow authors from the Books for Catholic Teens Facebook group.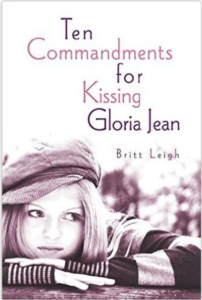 Title: Ten Commandments for Kissing Gloria Jean
Author: Britt Leigh
Genre: contemporary romance
Age category: young adult (but on the young end, really more upper middle grade in terms of voice)
Synopsis: (from back cover) "Gloria Jean wants her first kiss more than anything in the world. Unfortunately, it's not that easy. Parents, friends, the sex ed teacher at school, and her Confirmation class catechists: everyone has opinions about what a fourteen-year-old girl should–and shouldn't–do. Even Gloria's own body adds to the confusion with troubles of its own. In a world of mixed messages, Gloria Jean wonders how she can find a way to listen to her own heart, and how she's supposed to follow the rules if she isn't even sure what they are."
The book opens with eighth grader Gloria Jean going on her first movie date with a boy–although she swears to her mom it's really just boys and girls hanging out as friends since her two female friends are also bringing guys as well. Secretly, Gloria Jean is hoping this date will end with her first kiss, but part way through the movie, she experiences "the Troubles" and needs to run to the bathroom. It takes her a long time to come back to her movie seat, and the "mood" is ruined by then.
Eventually, Gloria Jean learns that the "troubles" she's been plagued with is actual celiac disease. She can't have any gluten, and when she does it wrecks havoc with her digestive system, making her feel absolutely miserable, and it could have serious consequences later in life. This means she can't receive Communion, which makes participating in her Confirmation retreat and regular Sunday Mass a matter of utter social awkwardness for Gloria Jean. Every young teen and preteen just wants to fit in, and Gloria Jean is standing out like a sore thumb when she can only receive from the chalice.
If you heard me on the Jennifer Fulwiler show last week, we were talking about good books for Catholic kids, some overtly Christian and others not. As you can probably guess, this book is very overtly Catholic. It's essentially Theology of the Body told in novel form. Her Confirmation classes are set up in direct contrast to her sex ed classes at her public middle school. At times, some teens may feel this book gets a bit preachy.
However, if you're a parent of a preteen who doesn't know how to get started talking about your values with regard to sex, this book may be a good place to break into that conversation. Or if you're a parent of a child with celiac disease, this book might make them feel less alone.
Save
Save