I squeezed in another YA book over winter break! My doctorate program at Loyola doesn't restart for another couple weeks, so I'm hoping to squeeze in at least one more book review before the month is out. For right now, here's another book from Joelle Charbonneau, whom I met at an ACFW meeting last March and who is the author of the New York Times bestselling dystopian trilogy The Testing.
Author: Joelle Charbonneau
Genre: Thriller
Age group: YA
Synopsis: Sixteen-year-old Kaylee Dunham knows what she needs–a kidney for her sick younger brother. However, the person who might best be a match is her dad, and he's run off. Meanwhile, a new social networking site has appeared, and it's quickly gathering popularity at Kaylee's high school. All you have to do is tell it what you need, and then it gives you a simple set of instructions to follow in order to have your need request fulfilled. The instructions seem harmless at first, but the consequences quickly turn deadly. For example, one boy is told to leave a package on the front steps of the house of a girl he likes. He doesn't know that inside the package are cookies made with ground peanuts, and the girl he likes has a severe peanut allergy. When Kaylee figures out the dangerous game the NEED system is playing with them, she needs to put an end to hit before someone she loves gets hurt. Or worse.
This is definitely a YA book, not a middle grade. I would say that if parents are okay with their children reading The Hunger Games or Divergent, then they'll be fine with this one, too. What I really like about it is that it could become a good discussion starter for the dangers of social media. Charbonneau raises some interesting questions about how far someone may be willing to go to get what they think they need and how "anonymity" online can make people behave in ways they wouldn't otherwise.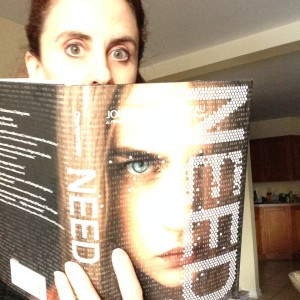 The book was definitely chilling in the way it built up the creepiness factor as the story progressed. After a while, it's pretty hard to put down. That's why on my Instagram account, I posted the photo to the right with the caption: "If you NEED me, I'll be reading this book by @joellejcharbonneau." The book is 334 pages, but I polished it off in just a few days during my winter break.