I don't know if this book will win the 2013 Edgar Award for Best Juvenile Mystery, but it definitely wins for longest title!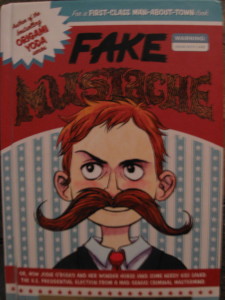 Title: Fake Mustache: Or, How Jodie O'Rodeo and Her Wonder Horse (And Some Nerdy Kid) Save the U.S. Presidential Election From a Mad Genius Criminal Mastermind
Author: Tom Angleberger (Also the author of the Origami Yoda series)
Genre: Mystery
Age group: Middle Grade
Synopsis: Seventh grader Lenny Flem, Jr., accompanies his best friend Casper when he purchases a "man about town" suit and an expensive handlebar mustache. That night a bank is robbed by a short man wearing a "man about town" suit and sporting a fabulous handlebar mustache. Lenny soon discovers that his friend has become possessed by the mustache and is able to hypnotize everyone who hears him speak. When Lenny discovers the possessed Casper's plans to take over the world, he decides to stop him with the help of former preteen rodeo star, Jodie O'Rodeo.
Does it pass the "Homeschool Mom Test"? There is no objectionable language or sexuality in this book.
"Silly" is the word I'd use to describe this book, but it's just the kind of silliness young boys love. Don't expect a realistic tale if you decide to jump into this story. Do expect a quick read and a whole lot of cartoon-type behavior.