I started typing this blog post out in the hallway of our little second-floor hotel in Siena. It's the kind of place where you have to drag your luggage up the stairs because there's no elevator and second floor really means two flights up.
So I spent like an hour in the hallway of the hotel typing up Saturday's events, but the wifi cut out on me before it saved, so I'm now going to retype this whole thing from the apartment in Florence.
Someday when I get home, I'll write a nice blog post about how to get to Siena by bus. Seriously, not easy. Even harder when your poor friend in another apartment wakes up late despite setting three alarms and my trying to reach her via cell phone, text message, Facebook message, and carrier pigeon (Well, you get the idea).
The good news is that we both eventually arrived in Siena, but I got there nearly two hours earlier. That gave me time to find the hotel, which was right in the city center and up and down a couple hilly streets. By the time I lugged my suitcase up the stairs to the reception of the hotel, I was exhausted. The reception room was very small–more like a little living room with an L-shaped couch and a small white desk for the receptionist.
The man behind the desk looked more African than Italian.
"Lei parla inglese?" I asked if he spoke English. I was too tired to trust my Italian.
"No," he replied.
Ugh. "Parlo solo un po' italiano. Ho una prenatazione?" I believe I told him I had a reservation.
He nodded, so I began to dig through my back for the receipt.
"No, no," he said and then said something about just needing my name.
"Uh, mio nome? Amy Cattapan." I started spelling my last name using the Italian pronunciation of the letters.
I only had to get to about the second t before he said, "Si, ma per due?"  (Yes, but for two?) He looked around me to find my missing friend.
"Lei è in ritardo," I said. (She is late.)
"E in ritardo?" he said. "Your Italian is good."
"Wait, you speak English?"
"Yes, but I wanted to make you speak Italian." Then he gave me the rest of the directions about the hotel and the keys in Italian. He even lifted my luggage up the next flight of stairs to our hotel room.
After a quick bathroom break in our room, I headed out to get the lay of the land in Siena. I figured I could do a little reconnaissance before Katie arrived. I headed first to the Piazza del Campo, which is the main square people usually think of when  they picture Siena.
Right now there are getting ready for the big horse race in the square called the Palio. Each neighborhood in Siena has a horse in the competition. There are virtually no rules for this competition, except you can't grab the reins of another rider's horse. The horse doesn't even need a rider to win!
Preparations right now include laying a ring of dirt around the outer edge of the square for the race track and setting up wooden bleachers in front of all the businesses that line the square. Spectators will also stand in the middle of the square while the horses race around them. Each neighborhood has its own flag and name, and we started seeing a lot of these flags being put up around Siena. I think I decided I liked the one with the owl best because it reminded me of Hedwig from harry Potter. The big race is on July 2.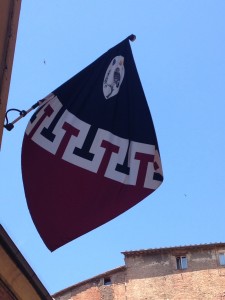 I grabbed pizza at a little shop near the square and then walked around to find a gelateria that got rave reviews in my guide book, as well as the Duomo, the house of St. Catherine of Siena, and the church that has St. Catherine's head (more on that later). I didn't go into any of these places, but I knew where things were. Siena is a small town, and nothing was more than a  10-minute walk from our hotel. That being said, the town is very hill, so a 10-minute walk is still quite a workout.
By the time I had finished my reconnaissance tour, Katie had texted that her bus had arrived, so I went back to the bus stop to pick her up. Unfortunately, she had twisted one of her ankles while leaving Rome, so she got on her sturdiest shoes before we headed out of the "albergo" (hotel).
First stop was the Duomo. This is the big cathedral in Siena. For a discounted price, you get tickets into it, the Baptistry next door, the Museo dell'Opera, and the crypt.
We started with the Museo, which holds a lot of old religious artwork that needed to be preserved and could no longer remain in churches. Another cool thing about the Museo was that you can walk to the top  of this wall and  get panoramic views of the city. The area on top of the wall is only about 30 feet long and maybe five feet wide, and you have to walk up two very narrow spiral staircases, which was not so great for my claustrophobia or Katie's ankle, but in the end we decided the view was worth it.
After the Museo, we visited the Duomo. I was a little surprised that a ticket was required (you don't pay anything to visit the churches in Rome), but I did notice a sign that said if you were going to mass there, you didn't have to pay. I guess the ticket price is to help cover the costs of the preservation work for the crypt below.
Katie and I didn't get into the crypt, but we did visit the baptistry, which had some amazing art inside, too.
We tried to get in San Domenico (the church with St. Catherine's head), but it was already closed for the night. It was about 7:00 p.m. by then, so we headed to the Piazza del Campo and found a restaurant frequented by a bunch of Italians. (When in a foreign country and a lot of restaurants are lined up right next to each other, go to the one that has the most people speaking the native language.)
The food was good (although not spectacular like our last dinner in Rome–I may need a separate blog post just for that little place). However, as the sun set, and the shadows of the buildings fell further and further across the square, I couldn't help but think how lucky I was to be dining there in Siena. This is the hometown of St. Catherine of Siena whom I admire a lot because she lived during a time when women didn't a lot of status and certainly didn't play a huge role in the church beyond becoming nuns. However, none of that stopped St. Catherine. She wrote to heads of states and told them what they should be doing! She brought about peace between family member and states. She care for lepers and consoled the dying. Most memorably, she wrote to the Pope who had fled to Avignon and told him to get himself back to the chair of St. Peter in Rome! And he did it!
She wrote a lot of very powerful and influential letters to people who you wouldn't think would listen to a woman from a hill town in Italy, but they did listen to her! As a woman and as a writer, I have to admire what she did.
Sunday morning, we slept in a bit. Outside our hotel was a bar called the Jolly Cafe where a nice Italian woman served us cornetti con cioccolato (croissants with chocolate) and a cappuccino for me and a caffe latte for Katie. Also working at the bar was an extremely tall, but very nice man. Katie thinks he looked tall by Italian standards, but he reminded me of Goliath.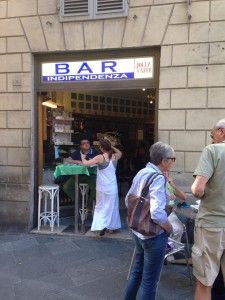 We visited San Domenico where St. Catherine's head has been preserved since the 1300s. Why is her head (and thumb) in Siena while her body is in Rome? Well it appears that during those crazy Middle Ages people thought they could buy the body parts of saints in order to work miracles. No wonder Martin Luther protested. Anyway, they wouldn't let us take photos, but I can tell you that her head looks pretty good for being 700 years old. She' swearing a veil, and her eyes appear closed. To me, it also looked there there was some deterioration around the mouth, but she was behind glass and about ten feet away so it was hard to tell.
After San Domenico, we attended 11:00 a.m. Mass at the chapel at the "Casa di Santa Caterina." Two things I love about attending Mass in Italy:
1) The priests are really passionate about their homilies. (Why or why can't our priests at home get this excited about the Gospel?)
2) When we say the Nicene Creed, I away get a little choked up at the part about the "one, holy, catholic, apostolic church." Notice this is catholic with the little c, which means "universal." This always gets me. No matter where I travel in the world, I am always part of Christ's universal church.
After Mass, I tried to climb up the big bell tower, but they were booked for the next hour, and we didn't have much time left in Siena, so we grabbed a pizza lunch and sat in the piazza until it was time catch catch our bus to Florence.
I'll talk more about Florence tomorrow. I'm tired tonight. 🙂