Did you know the expression "Holy Toledo" came from the hilly town of Toledo, Spain?  It was one of the few places Jews weren't persecuted in Europe. They thought of it as a holy town . . . hence, holy Toledo!
Well, holy Toledo, it was hot in that little town today! Katie and I took the high-speed train out from Madrid to Toledo. The ride only lasted 30 minutes, but Katie and I almost missed it. We had bought tickets for the 10:30 train and had stopped near Puerta del Sol for some breakfast first. We had planned to take the underground Metro to the high-speed train, but the nice people at the breakfast place told us about a faster train (Renfe), which would get us to the high-speed train in only one underground stop. Good thing because by the time we figured out where to catch the Renfe and then where to find the high-speed train we were running between stations with only minutes before our departure.
Murphy's Law was in action as our train was, of course, on the very last track (Number 16, thank you), and our reserved seats were on the very last coach. We sat down in our seats just moments before the train took off.
Thirty minutes later, we were in Toledo. If you've been in any of the small hillside towns in Italy (Assisi, Siena, San Gemignano), you'll have at least an idea of what Toledo is like.
It's that old medieval town with the wall around it and narrow, winding streets that are easy to lose your direction in.
After grabbing a quick coffee for me and juice for Katie, we headed off to the cathedral. Toledo used to be the capital of Spain, so its cathedral was of upmost importance. Hence, it is extremely impressive and took over 200 years to build. Katie and I used the free audio guides that came with our admission tickets.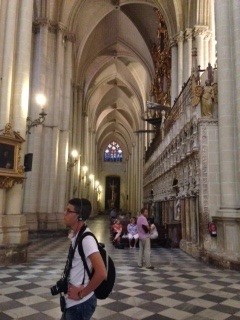 There is so much detail in every  piece of artwork in this church that it's hard to fathom how many people spent thousands upon thousands of hours creating everything for this church. Everywhere you  look is something amazing to gaze at and contemplate.
After our cathedral visit, we stopped at a place Katie used to go to when she was a student here in Madrid. We had a light tapas lunch with a sangria-like drink and then snacks that included fries with ketchup and mayonnaise as well as little ham sandwiches.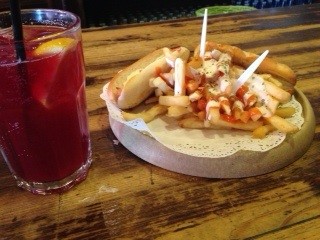 When we walked out of the bar, it was so incredibly hot it felt like we were walking through walls of heat. According to our calculations, we believe the Farhenheit version of the temp we saw displayed outside was 106 degrees. Katie wanted to take photos of a bridge she remembered going over the river, but we couldn't stand walking along the river for long with the sun beating down on us.
Finally, we decided to try another Rick Steves's suggstion and take a city  bus that looped around the city and offered views of the gorge around it. The bus stop was nearby so we hopped on, glad to have abandoned the heat for a bit.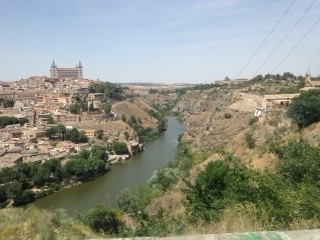 Before long, we had circled most of the city and had traveled a bit south. We looped around a hospital and then started back on the route we had come down. One other girl had gotten on the bus at the hospital. Other than that, Katie and I were the only other two people on the bus.
In Spanish, the bus driver yelled back at us, "What stop are you getting off?"
Katie explained that we wanted to go right back to where we had started and that we were just taking  pictures of the city. The bus driver made us each pay for another ticket. We only spent a total of 30 minutes on the bus, but had to pay twice!
After our bus ride, we decided to visit the Santa Cruz museum. It was another way to escape the heat. Sadly, only half of its exhibits were actually open, but we did get to see some more El Greco paintings (we had seen some in Madrid yesterday).
Then we got ice cream and did a little shopping. We tried to go to a Rick Steves's suggestion for dinner, but it wasn't open. Then we tried to find a monastery where they sold mazapan, but they  were closed.
Hot and exhausted, we found a coffee and tea shop open and each had some iced tea. Then we tried the recommended restaurant again. The automatic door slid open when Katie stepped in front of it, but there was only one man seated at a table inside. There was a hostess standing near the back.
"Abierto?" (Open?) Katie asked.
Yes! They were open! As a bonus, the hostess spoke both Spanish and English, and we got a really good deal on a yummy  tapas dinner with wine and dessert. A really nice final dinner for our trip!
Another 30-minute high-speed train ride, and a short Renfe ride, and we were back in the heart of Madrid.
It's back home to Chicago tomorrow! I'll have some wrap-up and bonus posts when I return.
Thanks to everyone who's been following along!