I was happy to see today that the Spin Cycle writing prompt for this week is about "three good things." It was saving me from writing a post that would probably come out sounding unintentionally negative.
You see, this morning, I was mentally ticking off all the things about Florence that make it "less than" Rome. But do I really want to spend my last night in Florence talking about what I don't like? No. That's crazy. I'm in Italy. I shouldn't be complaining about anything! And I don't want to sound negative because I am enjoying myself here.  (Of course, that being said, maybe someday I'll write a post about why I prefer Rome to Florence.)
But in the meantime, let's talk about three good things that happened in Florence today.
1. I took a test to finish off the "Intermedio 1" level at school and got a 97% Yippee!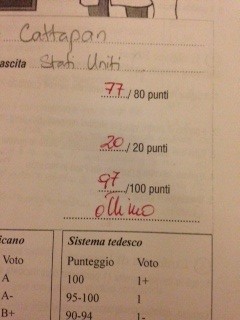 2. Katie and I climbed to the top of Piazzale Michelangelo where we got awesome views of Florence.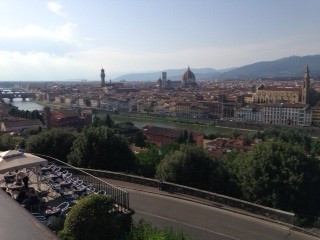 3. For "dinner," we had an aperitivo at a rooftop  bar at a fancy hotel that Katie's Russian classmate helped us find. We had fancy drinks as well as potato chips, formaggio (cheese), and olives (I let Katie have most of those). Then we found a place that makes yummy crepes with gelato and chocolate. (To my mom and Katie's mom, don't worry we had protein at lunch.)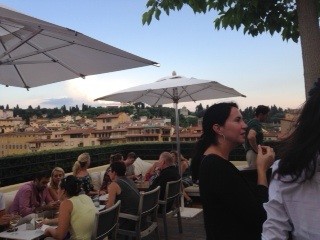 Bonus good thing: We also spent a good part of this very hot day in an air-conditioned museum (Palazzo Pritti) with lots of cool art.
Off to Spain tomorrow for the final leg of "Mi Piace, Mi Gusta"! (Yes, that's right, we're finally getting to the "Mi Gusta" part of the trip.)