Today was the first day of school. I met Katie and her two British roommates at a corner on the way to school. It was fun to walk the old path to school and say, "Buongiorno, San Pietro!" while crossing Via della Conciliazione. Again, I was amazed that I've returned successfully. Even as I sit typing this at the desk in my room, I find it  hard to believe I'm really here again. In some ways, it seems like just yesterday that I sat here typing out my blog posts. At other times, it feels like I'm in a dream as I sit here. Perhaps it's the jetlag!
At school, there was a long line of students waiting to check in. The two Brits and I took the test to see where we would be placed. It seemed to be the same written exam as last year. Then there was  a brief oral exam, which was basically just to hear us talk and see how well we understood spoken Italian. Listening in a foreign language has always been very difficult for me. Half the time, I catch just enough words to guess at what the person is saying, and then I just hope I didn't miss an important word that would completely change the meaning.
After our exams, we had over an hour to kill before our results, so I went with Katie and the Brits because they had to pay for their apartment. The guy who runs their housing accomodations recommended a place where we could get good fruit smoothies. They were indeed good, but I got my red smoothie onto my white shirt! Katie and I thoroughly impressed our new British friends with our Tide-to-go sticks and our Shout wipes, which almost completely removed the red spots from my white shirt. Apparently, they have no such things in England. This is why I love coming here! You meet people from all over and learn something new!
When we returned to get our class assignments, I was put in a morning class. Basically, I'm right where I had left off last summer, which is fine with me. I'm just glad I didn't regress! Katie and her roommates all have afternoon classes, so after my class, I did a little grocery shopping (sandwich for lunch, yogurt and fruit for breakfast tomorrow) and headed back to the apartment to read and rest for a bit.
Then at 3:30 I headed out to meet up with a Roman woman I met while in Guatemala on my spring break trip! We had exchanged info at the end of our trip. We spoke Italian together, or at least I tried as best I could. Her Italian (like all the other natives) is pretty fast for me. We stopped for a drink where I ordered Chinotto (an Italian cola), and another Roman friend of hers came to chat with us. After an hour or so, I had to leave to meet up with Katie.
Back at the school, we attended an orientation meeting and then went out to dinner at Polese, a restaurant I'd eaten at during last year's pilgrimage as well as my solo trip last summer. Seriously, the best bruschetta ever.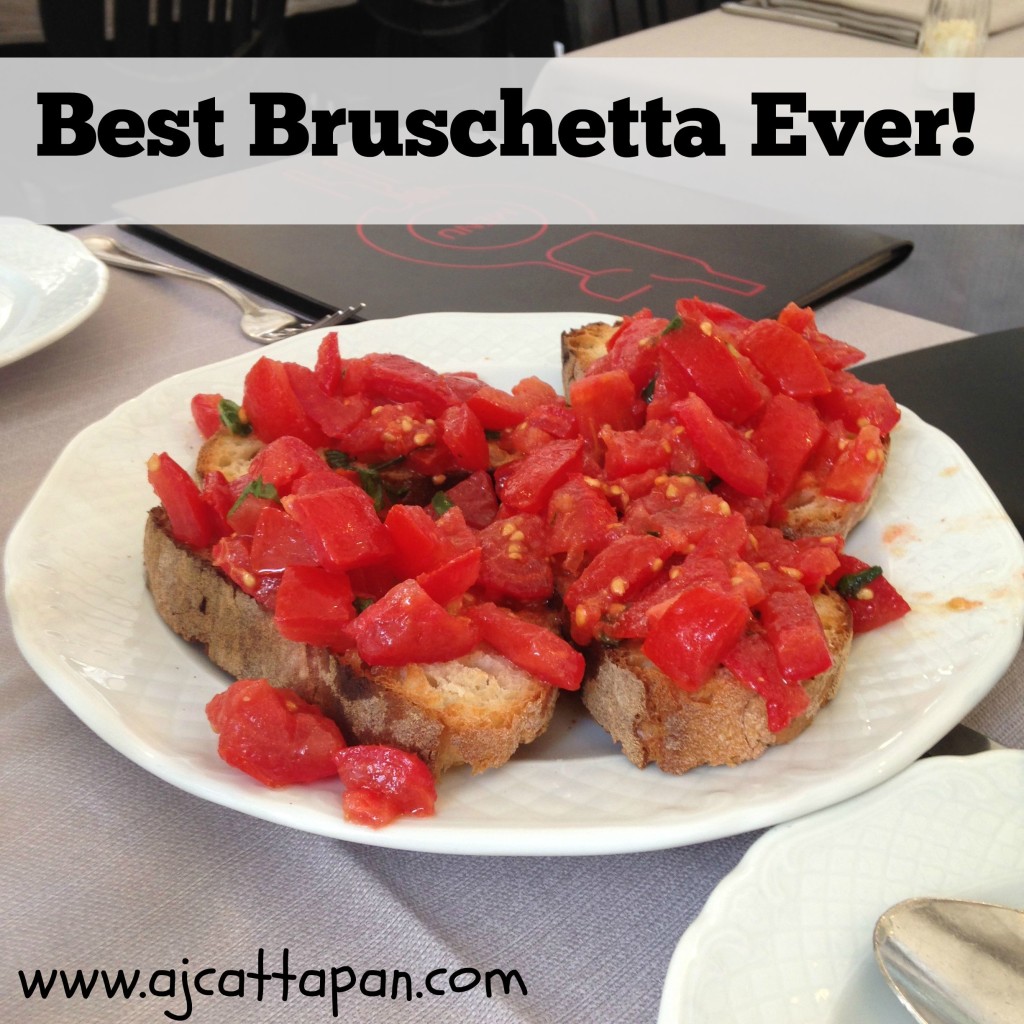 After dinner we had gelato (gelati, veramente) and sat in the piazza watching the children play. The weather during the day was cloudy and humid with a bit of rain, but the evening was absolutely beautiful with clear skies and a light breeze. A truly gorgeous night in Rome.
One of Katie's roommates said, "I'm already getting sad about the idea of leaving here." And she gets to stay a whole month!
I replied, "You see why I came back here."
"I'm surprised you ever left," she said.
Mom, if you're reading this, don't worry. I'm still not moving to Rome, but I sure do like it here!