How could it possibly be that I have only one more full day left in Rome? Where did the time go? I'm sure to my mother it must seem like I've been away forever, and while I miss my family, I still feel like the time has flown by really quickly. These two weeks seem a lot shorter than the two weeks I spent here last summer for the Speak, Pray, Cook tour.
This morning's class was on family relationships and the "ne" partitive. It's difficult to explain because we don't have any exact synonym in English. It's like a pronoun and can be something like "any" or "of those." For  example, if someone asked you how many apples you wanted, you could say, "Ne prendo 6." (Of those I'll take six.)
After class, I headed to the Musei Capitolini, which is a pair of museums on the Capitoline Hill. I only ended up visiting one of the two museums since I like to appreciate my art in smaller doses. Here are  a couple things I saw. (Hopefully, the pics turn out right-side up.)
Romulus and Remus and the she-wolf: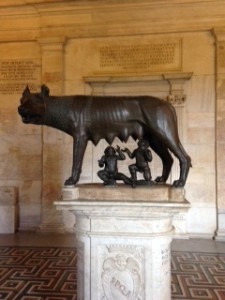 Medusa: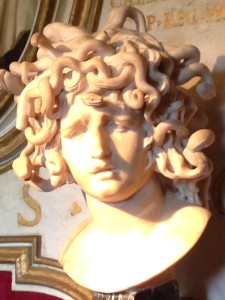 Caravaggio's Gypsy Fortune-Teller (Notice how she's pretending to read his palm. Apparently, she's actually stealing his ring.)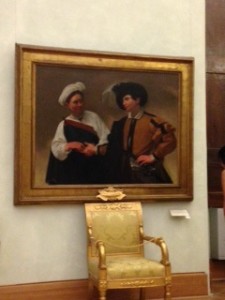 The views from the museum are pretty nice, too.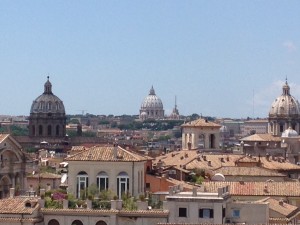 Then I stopped by the Trevi Fountain to discover that it is still under renovation.
Then I bused it out to the train station Katie and I will be taking on Saturday to get to Siena. I'm really glad I went there ahead of time to get the tickets, because it's a major station with inter-city trains, Metro trains, city buses, and inter-city buses. I'll be much more relaxed Saturday morning knowing that our tickets are purchased, and I know right where to go.
After class today, I met up with Katie and some of her classmates. Someone in their class had brought up Giolitti's, which is a famous gelato place I've been to many times in the last year. I had told Katie we should go, and when her classmate brought it up again today, she asked if today could be the day we visit it. Why not! We don't have much time left in Rome!
So six of us headed out to Giolitti's with me leading the way since I'm the only one in the group who had been  there before. When we turned the corner, I said, "Uh oh, this doesn't look good."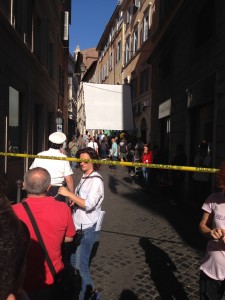 There was a film crew blocking the street right in front of Giolitti's. Those of you around for Speak, Pray, Cook last year, might remember the day I walked across Ponte Sant'Angelo while they were filming a TV show. I wondered if this was another TV show or a movie.
We couldn't see much of what was going on, and we debated where we should go next since Giolitti's seemed out of the question. But then one of the crew guys told us they were leaving, and we'd be able to get in soon.
Sure enough, they lifted the yellow tape five minutes later, and there was a rush into Giolitti's. (It really is popular and always crowded.)
So there I am, fighting the crowd to get my limoncello and raspberry  gelato, as the film crew wraps up their cables and picks up their dolly tracks. As soon as I get my cone, I turn around and see two of the other girls from our group.
"You just missed Ben Stiller," one of them says.
"What?!?"
"He was seated right over there." She points to a table just a few feet from us. "And then he walked right past us." She holds up her phone and shows me a picture she snatched with about 60% of Ben Stiller showing.
Yep. I was so distracted by gelato that I missed the fact I was standing within feet of Ben Stiller.
After our gelato escapade, we headed to Campo de' Fiori to check out the action, and then had dinner at my favorite wine bar, Mimi e Coco. Last, but not least, we found a liquor store handing out free samples of limoncello. Only in Italy.
Tonight I'm back at the apartment where I spent a few minutes out on my balcony overlooking the northern Roman hills. I can't believe my time here is almost over. It seems like I waited for so long to return here, and sometimes I need to nearly pinch myself to realize I'm really here. I'm actually typing my blog post at this ancient little desk while the Roman teenagers hang out in front of the school across the street.
While I'm sad that my time in Rome is nearly at an end, I can comfort myself that I still have adventures in Siena, Florence, and Madrid to look forward to.
Buona notte, tutti!