On Memorial Day, I guest blogged on Seekerville and talked about how authors can throw themselves a book launch party on Facebook. I thought I'd run a recap of that blog post here as part of the Spin Cycle's "summer rerun" writing prompt.
How to Throw a Fantastic Facebook Launch Party
(Without Losing Your Sanity)
So maybe you've got a new release coming out. Or maybe you've spent years hoping you'll have a book to promote . . . someday. Either way, when the time arrives, you'll want to be ready to throw yourself one fabulous celebration!
Build up your Facebook author page.
If you don't already have an author Facebook page, do so pronto. This article explains very clearly why you don't want to use your personal page as your author page. Long before your book releases, you'll want to build up your audience. Reach out to friends and fellow writers and let them know you have an author page. To keep them coming back, post interesting content daily so that people stay engaged.
Set the date and time for your party.
Pick an evening during the week when people are likely to be free. The great part about a Facebook party is that people can participate on their smart phones while doing other things. During the launch party for my young adult novel Angelhood, I had one friend participating during her daughter's fencing lesson!  Also, don't forget to list all the different time zones on your party page! I had people from four different time zones at my party, and you don't want someone not showing up because they had the wrong time.
Decide on your prizes.
Most authors give away copies of their book, bookmarks, gift cards, and other author swag, but try thinking outside the box, too. For my party, I reached out to my fellow YA authors to see if any of them would be interested in donating copies of their book(s) as prizes.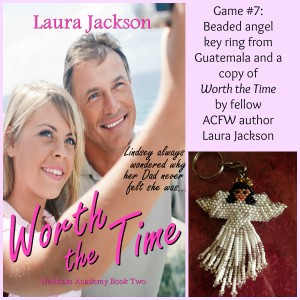 This turned out to be a win-win for all of us. I was able to introduce these other YA authors to the fans who showed up at my party, and these authors advertised my party on their own social media accounts, so a lot of their fans got to learn about me.
Create cute graphics for your prizes.
Because I was partnering up prizes, I used picmonkey.com to create cute graphics for each prize pack. These graphics became a fun way to advertise the party ahead of time on Facebook, Twitter, Pinterest, and Instagram.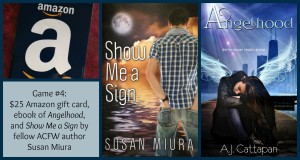 Type up your script ahead of time.
Your Facebook party is going to fly by! You don't want to waste time composing and typing out your posts during the party. Simply, create a Word document with an entire timeline of already composed posts. For example, I typed out:
            8:15 Game 6

My main character's younger sister Cecille is a ballet dancer. I took ballet lessons for only a few years but really enjoyed our dance recital in which we performed a ballet to a song from a popular opera that takes place in the Far East. Can you guess the opera?

The prize is a Jamberry nail wrap gift basket, including a sheet of the ballet slipper style like I'm wearing tonight and a copy of Cynthia T. Toney's Bird Face, a great story about overcoming bullying.
This script was a lifesaver! It was so easy to just cut and paste the posts at the necessary times. This left me free to read people's comments on the posts and respond to them.
Gather your friends for help!
I had a team of about six women helping me out. We staked out a spot at a local Starbucks, made sure we had plenty of caffeine, and fired up our laptops and tablets.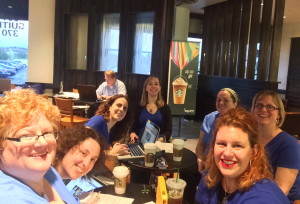 The women took turns watching the entries on the games. Each time a new game went up, one of them would take all the names of the commenters and enter them into random.org. As soon as the game was over, they hit the "randomizer," and the top name became our winner!
We were getting around 50 comments per post, so having a lot of eyes on the party helped tremendously.
Have a place to write down the winners' names.
At the end of my Word document script, I listed all the prizes (by the way, I definitely recommend numbering your games and prizes!). As soon as the winner was picked, I typed in the name and posted it in the comments section of that game. When the entire party was over, I listed all the prizewinners in a single post.
Have fun with it!
My friends and I all dressed in our "Angelhood blue" t-shirts, so we'd stand out at the Starbucks. My sister-in-law (who makes customized jewelry) even made necklaces for us with my book cover design on it. When the two hours flew by, we couldn't believe it! Over 100 people had joined our party, and it was so much fun reading their comments.
Have you thrown or attended a Facebook launch party? What did you think? Do you have tips for others on how to make it a success?
***********************************************************
LIMITED TIME ONLY!
Claim your FREE preview copy of Angelhood here.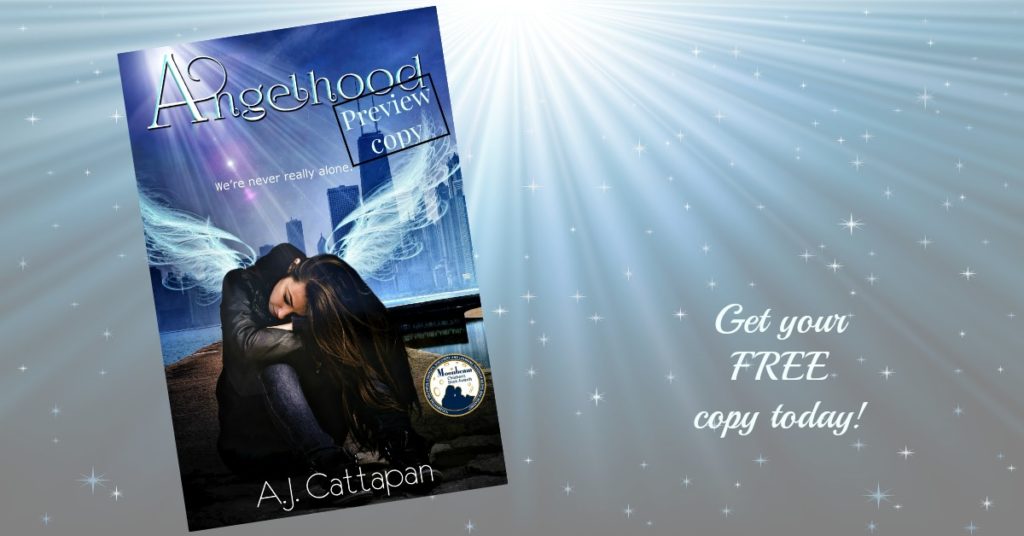 Want more information on how to win free books from me and my author friends? Subscribe to my Insiders Club below and get all the inside scoop on giveaways, upcoming releases, and more!

Want to learn more about my book Angelhood? Check it out on . . .

Amazon Kindle ($1.99), Amazon Paperback ($10.99), Barnes & Noble Nook ($1.99), and iBooks ($1.99),
Want to see other entries in this week's Spin Cycle? Click on the button below.
Save
Save