As another school year gets underway, today seems like a good day to talk about Donna Gephart's How to Survive Middle School. Not sure any of my students would actually learn any tips about surviving middle school from this book, but it is a fun story and who can resist such a cute cover?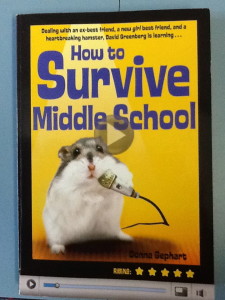 Title: How to Survive Middle School

Author: Nancy E. Krulik

Genre: contemporary fiction

Age group: middle grade

Synopsis: Eleven-year-old David Greenburg is as scared of starting middle school as the next kid. That doesn't stop him from having dreams of hitting it big as a talk show host like his hero Jon Stewart. With the help of his computer and a camera, David films humorous "talk show bits" (starring himself and his hamster) and posts them on YouTube. Although his oldest friend ditches him at school, David meets a new friend who helps turn his videos viral. But none of his new-found fame takes away the pain of being bullied at school or the pain from missing his mother who left the family two years ago.
When I first read this book a year ago, I thought, "Gee, I hope my incoming sixth graders don't think this is what middle school is really like. We don't have kids getting swirlies in the bathroom. I swear!"
I enjoyed reading this book, and from the students I've talked to, they seemed to enjoy it as well. It's the kind of a book that would appeal to fans of the Diary of a Wimpy Kids series.