During the Mi Piace, Mi Gusta tour of Italy and Spain, there were several times when I was trying to find information online and couldn't get it, and I thought, "Someday I'm going to write a blog post about this to save some other poor traveler from my frustration!" Well, today's the day!
When I researched getting from Rome to Siena, all the info I could find online said it was best to take a bus. This is unusual because often a train is the best way to get between European cities that are too close to warrant a flight. However, there's no good train that goes to the small hillside town of Siena.
So what bus do you take? And where do you get that bus?
Well, today's your lucky day! Here's how you get the bus from Rome to Siena!
The bus line you want is the Sena bus line. Here is their website. However, I found their website a little confusing, so I asked my Italian landlady if she knew much about it. She only spoke Italian, so between the website and my limited ability to understand spoken Italian, I was able to piece it together. She also suggested I take a trip out to the bus station to purchase the tickets ahead of time and figure out my way around. I'm glad I did because the bus station in Rome is large! Here's the scoop to make it easier for you.
The Sena bus line can be found at the Tiburtina station. This is on the northeast end of Rome. This is not the big Termini station in the city center, but it is a very big station nonetheless. In fact, at the Tibutina station, you'll find Metro lines (the subway system in Rome), regular city buses, "big" trains (like the high-speed ones between cities in Italy), and a whole bunch of coach buses like the Sena one you'll want for Siena.
Step 1–Get to the Tiburtina station. If you don't know how to get there, I suggest using the MoovIt app on your smart phone to help you out. In fact, I used MoovIt many times in Rome, Florence, and Madrid to help me navigate public transportation systems in Europe.
Step 2–Find the Sena buses at the Tiburtina Station. I'm not going to lie. This is a little easier said than done. I had taken a regular city bus to Tiburtina. It let me off in front of the station (along with a half dozen or so other city bus lines that ended at Tiburtina). I walked inside the huge station and found Metro lines downstairs and a whole slew of inter-city trains upstairs. The station went on and on. It has shops, restaurants, and washrooms insides. But I couldn't figure out where the Sena bus line was. Finally, I went back to the entrance and asked a guy at a news stand where the buses to Siena where. He told me to go "across the street."
Okay, so here's the deal. If you're facing the Tiburtina station and your back is to the spot where all the city buses drop you off, you're going to want to go to your left. You'll see a street that runs under some highway roads.
Go across this street. You won't see any buses at first. You'll see bushes and trees on the other side of the street. Turn to your right and walk a little ways. You'll soon see a whole bunch of coach buses. Believe it or not, you don't want those buses either!
On your left, you'll see this sidewalk with a blue canopy cover. Walk all the way through that canopy-covered sidewalk.
On the other side, you'll see a bunch more buses! The Sena bus to Siena was at "Stallo 5."
Across from each "stallo," you'll see a bunch of little ticket offices with sliding doors. Go to the one directly across from Stallo 5. It should say Sena on it somewhere. Sena is connected with some other bus lines, so you'll probably see a sign that looks like this:

Go inside and buy your tickets. You can purchase them ahead of time or right before (assuming there are still seats available). The bus will be at Stallo 5 right across from where you just bought your ticket.
Here's a map to help you find the Sena bus stop (marked by the yellow star) when you get dropped off by a city bus (marked by the blue arrow) in front of the Tiburtina station.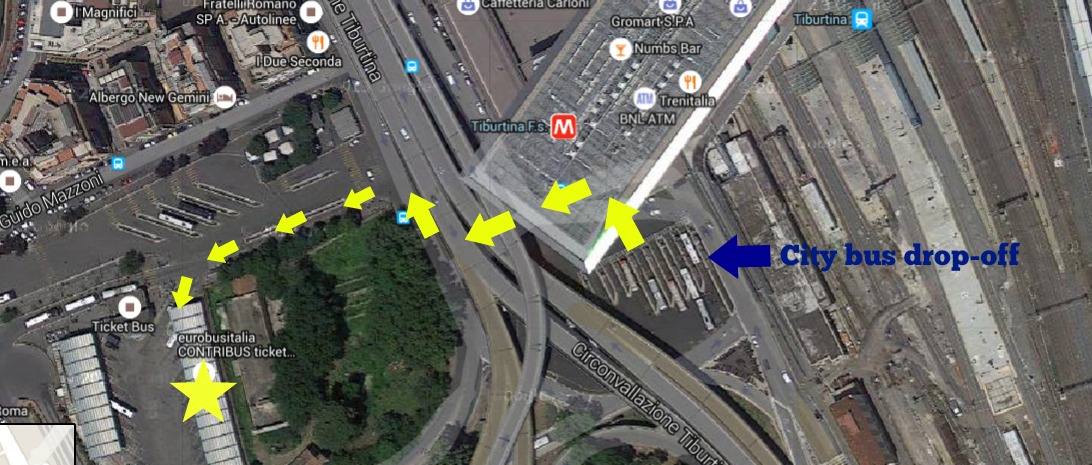 When you get to Siena, you'll probably want to get off at Piazza Gramsci. This popular bus stop is just north of the city center (Plaza del Campo) by about a 10-minute walk. You won't find another bus stop that gets you closer to the city center.
And remember that Siena is a hill town, so wear your good walking shoes! Have fun!