I'm embarking on the longest summer I've ever known–and will probably ever know. Thanks to construction plans, we started school early this past year, which means we got out early. Furthermore, the construction will last long enough that we won't be able to start school again until after Labor Day. I've never had a summer that has stretched from before Memorial Day to after Labor Day. Over 14 weeks of summer. I should be thrilled. I should be relieved. I should feel excited and exhilarated.
I'm terrified.
As the last few weeks of the school year were winding down, I found myself becoming increasingly anxious about the summer. When you find out you're going to have a very extended time off of work, you start to think about all the things you can get done, and soon your to-do list is so long, you're sure you'll fail miserably. There's no way you can possibly finish everything you plan to do.
So what does a teacher plan to do when she has "time off"?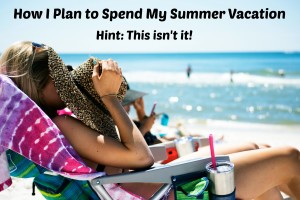 Apparently, a lot of work! That's what I plan to do!
Here's what's on the agenda for this summer . . .
Doctorate classes
I'm taking two. The first one started this past Monday. It's a six-week, online course on educational research. The good news is that I don't have to drive anywhere. The bad news is that it's a semester-long class jammed into six weeks. There's an assignment due pretty much every day.
The second class will be a two-week course on educational leadership in multicultural schools. This course will be in Rome. Yay!
Italian classes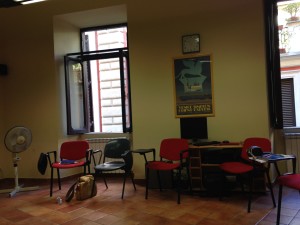 Those of you who have been around for a while know that I've spent at least two weeks during each of the last two summers studying Italian in Italy. This year I'll have only one week of study tacked on to the end of the doctorate class in Rome. Since I have just one week to study Italian, I'm taking their "Super Inatensive" class, which means having lessons in the morning and afternoon.
Purging
Inspired by retiring coworkers who had to clean out their classrooms as well as friends who are following a particular purging program, I've decided to do some major cleaning this summer. I have a very small home, which is both a good and a bad thing. It's good because there isn't a lot to clean. It's bad because I have no room for all my stuff. Somehow I need to organize all my teaching stuff, my writing stuff, my church stuff, my doctorate program stuff, and just in general, clean house. My plan is to take one small section per day and really clean it out–just one drawer, or one shelf, or one cabinet. Hopefully, spending just a few minutes a day will keep me from burning out.
Writing a new novel
Obviously, this is a huge goal, and to make it worse, I haven't decided yet what that novel is going to be. I have a couple vague ideas, so I'm going to spend time this week discerning between the two.
Writing a short story
I have a chance to enter a middle grade mystery story in an anthology that's being edited by a big name in kids' literature. There's no guarantee my story will get picked, but if I don't at least write one and try to get in, I'll never know if I could have written something good enough!
Reading List: Doctorate Program
I need to read five books for my doctorate classes before July 1:
Educational Research

The Culturally Proficient School: An Implementation Guide for School Leaders
Implementing RTI With English Language Learners
English Language Learners and the New Standards: Developing Language, Content Knowledge, and Analytical Practices in the Classroom

A Thousand Splendid Suns
Want to Read List:
the rest of The Lunar Chronicles series by Marissa Meyer
Love's Perfect Surrender by Chiara Talluto
Rome's Original Tituli: A Pilgrim's Guide to the Eternal City's Ancient House Churches

Stay with Me by Carolyn Astfalk

Ten Commandments for Kissing Gloria Jean by Britt Leigh

I Thirst by Gina Marinello-Sweeney
Promote Seven Riddles to Nowhere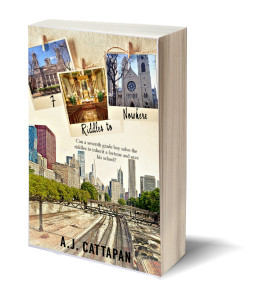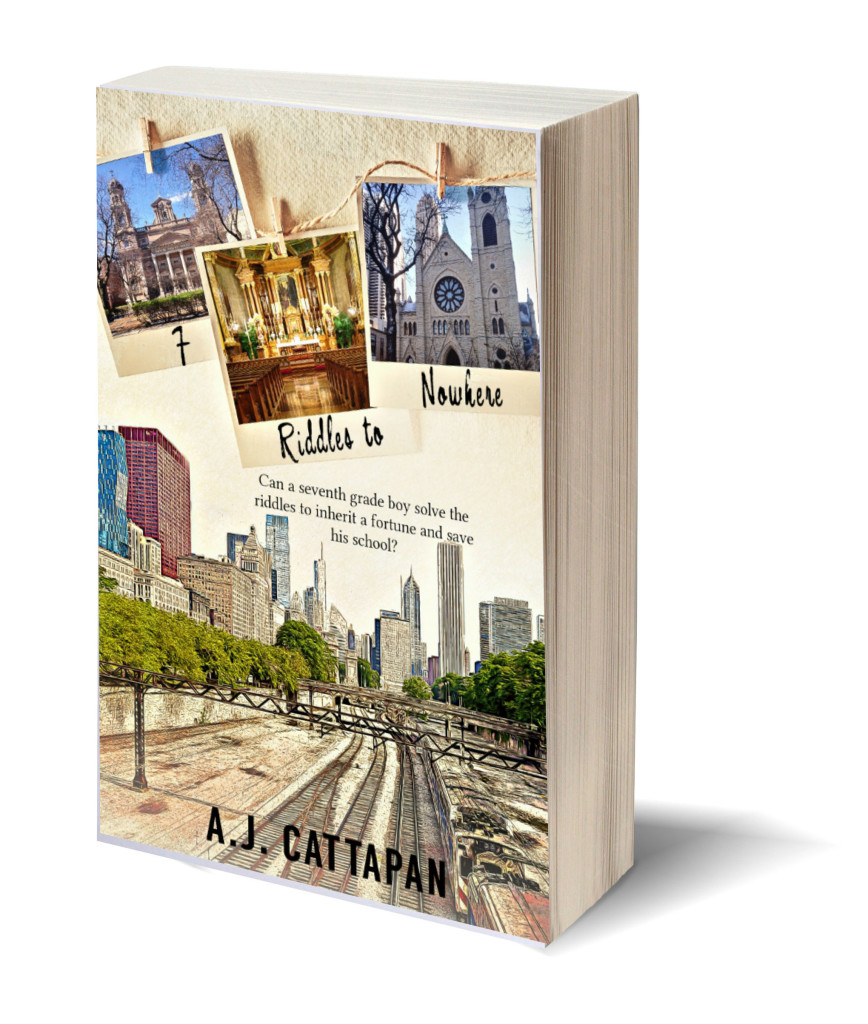 Oh goodness gracious! I have a new book coming out at the end of the summer!
That means I've got to get on promotion. Things to do include the following:
make a book trailer
write guest blog posts
put together a whole blog tour schedule
assemble a launch team
throw a Facebook party
arrange book signings at various locations
Speaking Engagements
At this moment, I appear to have five for the summer: three are author visits at area schools, one is for the Catholic Writers' Conference, and one is for the Archdiocese of Los Angeles's annual tech conference. (Did I mention I'm going to California this summer?
*****
As you can see, that's a daunting list. My biggest fear is that I'll succumb to the sin of sloth! You see, I love to sleep! There's nothing better on a day off of work than getting to sleep in. The problem is that the more I sleep in, the later I stay up the next night. The later I stay up, the more I sleep in the next morning. The cycle repeats until suddenly I find myself wide awake at 2:00 A.M., and the next day I feel so sluggish that nothing gets done.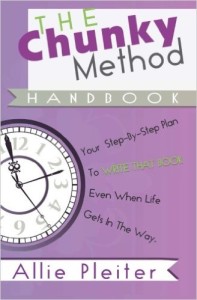 I can't let that happen this summer. In order to tackle my to do list, I'm going to need to muster all the self-discipline I can. That's why last night, I attended a talk by my author-friend Allie Pleiter. She's written a whole book on how to get your writing done in chunks. (You can check out Allie's book The Chunky Method on Amazon here.)
Her talk last night was very helpful. I'm feeling a little less panicked because I have some tools for facing my daunting to do list.
Now if I can just keep myself from hitting the snooze button in the morning, I'll have a fantastic summer!