This week for the Spin Cycle, Ginny Marie has asked us to share our favorite holiday recipes. Anyone who knows me well knows that I love to bake, so when I think holiday recipes, I think Christmas cookies! We definitely have our favorites in my family, and the only I often make is the batch of rum balls. Yummy.
I can remember vividly the first time I helped my mom make them. After watching her roll the sticky concoction in her hands before rolling them in powdered sugar, I looked at the gooey residue left on her palms and said, "That's how you make them!?!" I couldn't believe something so yummy looked so icky in its preparation. Oh well. The mess is worth it!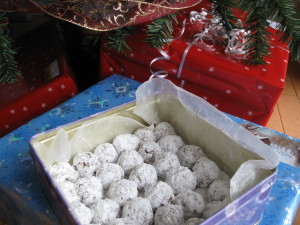 Ingredients:
1 cup pecan chips*
1 package of vanilla wafers
1 cup powdered sugar, sifted
1 tablespoon cocoa
1/8 teaspoon salt
1/3 cup light corn syrup
3 tablespoons rum
1 teaspoon vanilla
sifted powdered sugar for rolling balls
*If you can't find pecan chips in your store, buy any other type of pecans (e.g. halves) and chop them until you have 1 to 1-1/2 cups finely chopped pecans.
Break the vanilla wafers into smaller pieces and drop them into a blender—about eight cookies at a time. Chop them in the blender until they are very fine, like graham crackers crushed for a graham cracker crust.
Continue crushing vanilla wafers until you have 1 ¾ cups crumbs. You'll use a little more than half the package of wafers. Turn the cookie crumbs into a bowl with the pecan chips.
Add powdered sugar, cocoa, and salt. Mix well with pastry blender.
Add syrup, rum, and vanilla. Mix well. Put bowl in freezer for 5-10 minutes to make rolling easier.
Roll the balls using a tablespoon or a small cookie scooper to measure out the dough. Roll balls in powdered sugar. Let rum balls dry several hours before storing in air-tight container in refrigerator.
To keep hands from become too messy, try using powdered sugar on the palms of your hands while rolling.
Yields: about 40 rum balls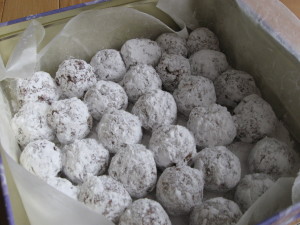 Want to see more holiday recipes? Head on over to Lemon Drop Pie and follow the links.