Day 7:
This morning we left our hotel in Antigua and took a short bus drive to a coffee plantation.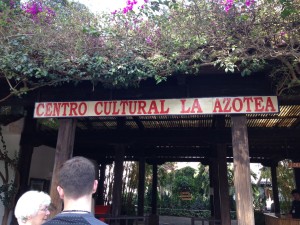 Veronica took us through the whole coffee-producing process, which is a lot like the chocolate-making process–at least in the early stages with the roasting and shelling.
Two interesting things I learned:
1. The coffee bean is actually red when it's ripe. When it's green, it's not ripe yet. The inside of the bean is a pale parchment color. This outer skin is shelled. Then the inner most part of the bean is roasted until it's that brown color we're used to.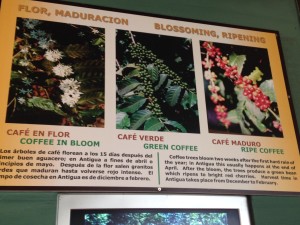 2. It takes one whole coffee tree to make one pound of coffee!
3. One pound of coffee used to make 40 cups of coffee in America, but thanks to Starbucks, we've grown a taste for darker, richer coffee, so now one pound of coffee only makes 32 cups of coffee in America. In Europe, they only get about 15 cups of coffee out of one pound.
On the same site as the coffee plantation is a museum for the music native to this land. The Maya used turtle shells and seashells to make music. They also had wood and percussion instruments, but there were no string instruments until the Spanish colonists arrived.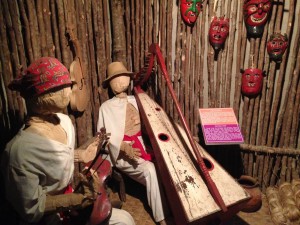 We had a yummy lunch with a Guatemalan stew, vegetables, stuffed peppers and fresh guacamole and tortillas on the plantation/museum grounds. Then three native men performed traditional songs on instruments they made themselves because to be a musician here means to make your own instrument.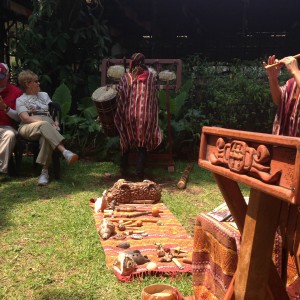 We had a little time to shop and then headed back on the bus for a three-hour ride to Lake Atitlan. This lake is kind of the Lake Como of Guatemala. Our hotel is right on the lake, which is surrounded by mountains. We arrived in time to take a little stroll through the gorgeous botanical garden that is on the hotel's property before we had dinner.
Day 8:
This morning we got to sleep in. That meant we had more time to observe the amazing birds and gardens at the hotel.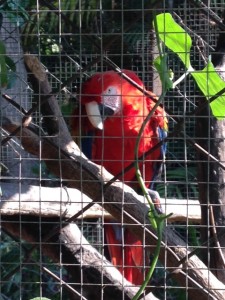 Then I walked down to the dock to take a photo of the helipads that the hotel has. After I took the photo, I turned toward the lake and spotted a helicopter flying over it. Suddenly, I realized it was probably headed right toward me! I mean, how manny helipads could there be on this lake? I ran back down the dock and got far enough away to take a couple photos, but I could feel the breeze from those helicopter blades.
A short bus drive after breakfast took us to the town of Panajachel. We had three hours here to shop. All the shops were mainly on the same main street, and it's exactly what you'd expect a town of indigenous people to be like. Lots of stalls with natives in their brilliantly colored and intricately woven clothes, some of whom follow you down the street trying to make a deal with you. I bought a few small things (including some things I'll use as giveaways. Watch my Facebook page for details.)
At 12:30, we headed back to the hotel for a delicious lunch of traditional Guatemalan food.
We had the afternoon at leisure. My friend decided to go swimming at the hotel pool (no surprise to those who know her). I went with two other ladies in our group to go ziplining. It was my first time. We had to walk a ways down the street from the hotel. I thought it might be in the nature preserve, but my two companions thought it was fuather down the road. Long story short, it was in the nature preserve. When we got there, it was 2:00. The girl at the counter, who spoke only a little English, said that the next tour was at 3:00. There were two courses: the long and the short one. One of the women I was with had already been ziplining and had done a short course, so we decided on the long.
The girl told us that there was a half-hour walk up to the long course. We decided to start our trek right away to give us plenty of time to find it. So we started climbing up the jungle terrain of the mountain side. Soon we came across a suspension bridge.
Then another suspension bridge.
Then another one. Then a huge waterfall. Then another suspension bridge. Around the fifth suspension bridge, I said, "This really is my Indiana Jones vacation."
After almost a half hour, we found we had traveled in a circle. We headed back to a spot where they had a bathroom and a reception desk. The guy behind this counter didn't speak much English either. He said something about the butterflies and pointed to the left. So we followed a path marked by a butterfly sign This brought us to .. . a butterfly garden. Did we need to walk through it? It turns out that brought us in a circle, too!
So we headed back to the guy at the reception desk. It was now about 2:35. How would we make it to the meeting point by 3:00? Turns out we were already at the meeting point. We think the guy was just suggesting we visit the butterflies to help pass the time while we wait. But we were so determined to get to the meeting point, we never even took pictures of the butterflies!
Finally, we met our tour guides. They helped us put on our gear and then do a short (20 feet) practice cable, so we could practice stopping. I didn't stop fast enough and was told to pull down harder on the brake.
The practice finished, we began to climb up the mountain. Right back up the path we had been on with the suspension bridges and the giant waterfall! One of our group members was suffering from asthma, so we had to stop periodically. I was worried for a bit that she wouldn't make it, but eventually (after over an hour of climbing) we made it to the top. There were six of us doing the long course: my two new friends, myself, and three young people on a mission trip.
We had seven lines to zip down. The first was fairly short, but still felt kind of long to me. I was okay getting started, but as soon as the treetops dropped away from below me, and I was flying over the canyon, I thought, "What am I doing?" But before long, I made it safely to the stop.
Then we hiked up a bit more. Now we were going to be on a long cable. This was very high up on the mountain, and the cable went over a very steep part of the valley. Almost immediately, I was out in the open. It was very windy up there, and I began to flow sideways. My feet were pushed toward the lake, and I was nearly perpendicular to the cable line. Finally, I could see the tour guide at the end of the line. We were told to hit the break when we saw him wave his red flag. Was he waving it now? Remembering how I hadn't braked hard enough in the practice run, I began to put on the brake, but I was slowing down and still had a long way to go. I released the brake. Before long, I stopped moving. Completely stopped. Right over the canyon, which was hundreds of feet below me.
I looked toward the guide. He was still 200 feet from me. How was I going to make it the remaining 200 feet to the ledge? Did this happen to other people? I tried to remain calm. Surely, there had to be a way to get down. I used my gloved hands to start pushing myself along while trying not to think about the fact that there was nothing below me for hundreds of feet. Before I could get far, the guide at the end came zipping toward me. I don't know how he did it, but he got to me, hooked us together, and brought us back to the landing.
The next couple of people made it all the way. But the next guy, who had a horrible fear of heights, got stuck out even further than I did! Back out went our tour guide to rescue him.
The third cable was even longer than the second, but it was at more of an incline, so it went faster. Again the wind pushed my feet toward the lake, and I had to hold my hands far enough away from the cable to avoid my arms getting burned. I made it almost all the way to the end of this one. Luckily, there was enough ground coverage for the finally forty feet or so, so the guide only had to run out and grab my legs to pull me the rest of the way.
After that, all the other cables (there were four more) were short and easy. Most of those had us flying through trees, so they were less scary than the first three, which had us flying over the valley below us. In fact, by the time I finished the fourth line, I was feeling like a pro. I got my brake timing down perfectly and was able to stop right where I needed to. I was actually sad when we finished the last one.
At the end of the lines was an optional, short ropes course, which I did, but my two friends from the tour skipped.
We came back to the hotel victorious (with diplomas!) with almost an hour to spare before dinner.
One last day of adventure tomorrow and then the journey home.