Day 5:
This was mostly a traveling day. We had to head all the way from Tikal in the north back south past Guatemala City to Antigua. This city used to be the old capital until it was ruined by earthquakes one too many times back in 1773, and they decided to just move the capital somewhere else. That somewhere else, of course, being Guatemala City.
Since we were basically driving on the same path we took two days ago, we didn't have any sight seeing stops this time. We just drove all day with one lunch break and three quick bathroom breaks.
Even without any side trips, we didn't get to Antigua until 5:23.
Our hotel is very, very nice. It's a spa actually. We were greeted at the door with some kind of fruity drink in a champagne glass. My traveling friend said the drink reminded her of a Bellini without the alcohol.
The two of us did a quick walk around the neighboring blocks for a half hour.  We saw a lot of kids in school uniforms, so we wondered if a local Catholic high school had just gotten out. Maybe they have a long school day here.
Back at the hotel, we had a lovely dinner with lots of yummy dessert choices.
Day  6:
Oh my gosh! What a lovely day in Antigua today. The weather was perfect, in the 70s and mostly sunny. We started at 9:00 a.m. with a three-hour walking tour of the city led by our very own Veronica, who continues to be filled with valuable knowledge and entertaining stories. For example, did you know that they built corner windows in their houses here in Antigua during the Spanish colonial times because the higher class women were not supposed to move around outside their homes by themselves. They spent most of their days indoors doing embroidery or staring out the windows–hence, the corner windows to give them more to look at!
Also, the carpenters that they had were used to building ships instead of houses, so when they had to make a roof they basically built a ship's hull and then turned it upside down.
On our walk, we visited the main cathedral near the town square. It is much smaller than it used to be because most of it was ruined during earthquakes.
Holy Week is a big deal down here, and preparations have already begun, including this beautiful "carpet" made of colored sand.*
Our group stopped near the Central Park, but Veronica instructed my friend and I to make a little detour.
The night before she had told us about a chocolate museum (you know the cacao bean is big here) where we could take a class. Since I had told her we were interested, she instructed us to go right away and make our reservation for the class and then meet up with everyone else at the next stop on the walking tour. The chocolate museum (named Choco Museo) was only a couple blocks away. Unfortunately, it didn't open until 10:00, and it was 9:57. So we waited. And waited. Finally, at 10:10 it opend. We quickly made our reservation for a 1:30 class and headed toward the "Las Capuchinas," the convent for the Capuchin nuns. It was damaged in an earthquake in 1773, but has become basically a museum now.
After our walking tour, we had a nice (but somewhat salty) lunch with an onion and leek soup and then our choice of entrees. I had the tilapia, but there were also steak, chicken, and vegetarian options.
Lunch ended just in time for our chocolate class, which was awesome. Our instructor took us through the whole process from the cacao pod to the beans fermenting to drying the beans to roasting the beans to the separation of the shell from the bean to the crushing and pulverizing of the bean. We actually got to roast the beans and shell them. The shells are used to make cacao tea, which we got to drink. Then we grounded some of the beans to make two other drinks, the traditional Mayan drink (with chili, paprika, and honey) and then the Spanish version (with cardomon, anise, sugar, milk, and black pepper). It tasted a lot like a chocolate chai tea.
Then we finally got to the business of making chocolate candy! We had our choice of dark or milk chocolate. I chose milk, and my friend chose dark. We picked out molds, filled them with the chocolate, and then added things like sprinkles, coconut, macadamia nuts, orange peel, mango, ginger, almonds, and Oreo bits.
The chocolate needed one and a half hours to set, so we headed out to a jewelry store to do some shopping for jade.
Then we headed to the church of mercy (Iglesias de Nuestra Señora de la Mercidad). This is a very pretty church with intricate white scrollwork outside which makes it look a little like a wedding cake. We took a few minutes for prayer inside.
We also visited the museum at Santo Domingo before heading back to our hotel for another lovely dinner in our open-air restaurant.
One other cool thing we got to see while walking the streets today was a procession of Catholic school kids getting ready for Holy Week.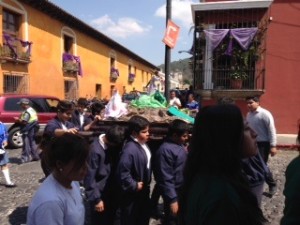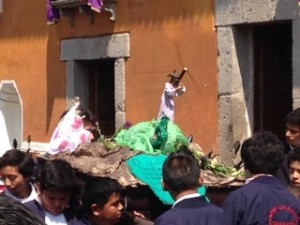 *I was corrected later. They actually make those "carpets" with colored sawdust instead of sand. Either way, I'm totally impressed.