Every year I try to read the Edgar Award nominees for juvenile and young adult fiction before the winners are announced. Due to time constraints with the doctorate program, I completely failed this year. However, I did manage to read the winner in the juvenile category recently, so here it is!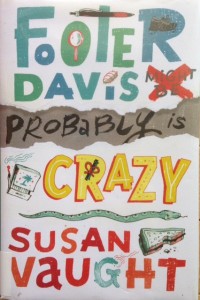 Title: Footer Davis Probably Is Crazy
Author: Susan Vaught
Genre: mystery
Age group: middle grade
Synopsis: Footer Davis's mother has bipolar disorder.  Sometimes she's just fine–but not if she doesn't take her pills. Prior to the opening of our story, there was a terrible fire on a neighbor's farm. The two Abrams kids who live there haven't been seen since. Were they so badly burned in the fire no one could find their remains? Or have they fled? Footer and her best friend Peavine decide to investigate, and what Footer finds scares her into thinking maybe she had something to do with the fire herself.
Author Susan Vaught works in the mental health field, so she's definitely writing about something she has experience with here. The story is told in first-person from the perspective of young Footer Davis. Footer has a very unique voice. It's one of the strengths of this story, but I'll also admit it's part of what made this story a little hard for me to get into at first. After all, Footer Davis "probably is crazy," and her thoughts can be hard to follow. When are we being told the truth? When are we experiencing visions or a dream through Footer's perspective? Or is she just remembering the past?
Thankfully, once you get used to Footer's unique voice, the story moves along very rapidly. The author also does a great job with the ending. Often in middle grade mysteries, I can guess where the author is headed. It took almost until the surprising ending for me to figure out where this was all headed. And then once I figured it out, I wanted to shout at Footer, "Hey! Don't you see what's going on here?!?"
Some might wonder with all of this talk of mental illness if this is appropriate for middle grade readers. Yes, it's definitely told with a middle grade voice, not a YA voice. I would put it a little akin to the great story So B. It by Sarah Weeks which deals with a character whose mother is mentally challenged.
So if you're into middle grade mysteries with unique main characters, check out Footer Davis Probably Is Crazy.