Soon, Pope Francis will be in Philadelphia for the World Meeting of Families, and then in October, he and bishops from around the world will meet in Rome for the Synod on the Family. There will probably be talk on birth control, abortion, and divorce as well as caring for children and the elderly. And if there's any talk on same sex marriage, you can be sure the media will put that front and center. But in all this talk, there's one aspect of family I think rarely gets mentioned. Perhaps it's purposely swept under the rug, or maybe it's just forgotten. Large families seem to be encouraged in the Catholic church, but what about those of us who aren't called to marriage or religious life? Where do the single people fit into the Church? It is to that end that I write this letter.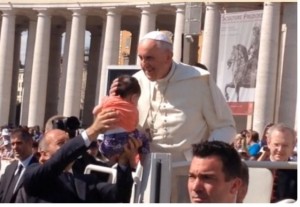 Dear Pope Francis,
You have done such a wonderful job reminding us all to reach out to the marginalized people of this world, to care for the sick, the elderly, and the poor. I know that I am only one of many people who have tried in the last few years to follow your example.
There is another group of marginalized people that I'd like to call your attention to. Perhaps their needs aren't as desperate as those of the sick, the poor, and the elderly, but they are often forgotten, especially when there is much attention being focused on families, such as at the upcoming World Meeting of Families and the Synod on the Family. Please do not mistake what I am saying. Families are certainly important, but I've noticed that sometimes when we talk of families, we mention only the mother, the father, the children, and the grandparents. But what about the unmarried member of the family? When talk about family life occurs, the single person tends to be forgotten, but I beg you not to forget about the single people! Especially those of us single Catholics who dreamed for years of getting married and having children but find ourselves unmarried and childless. For years, we prayed for a spouse and children. We got involved in our churches, taught Sunday School and religious education, worked in campus ministry, and served as lectors, cantors, and Eucharistic ministers. Meanwhile, we tried every conceivable method of finding a good Catholic to marry: volunteering, using Catholic dating websites, accepting blind dates, taking classes, praying rosary novenas, etc. For whatever reasons (and perhaps it is simply God's will), we've never been blessed with a spouse and children.
So how can the Catholic church help? By recognizing the value and worth of the single person in the Church. Please recognize our role in the greater family, not just our biological family but our Church family as well. I will give you two examples of how this has not happened for two of my single friends. One friend (I'll call her Elizabeth) recently moved to a new community. She wanted to find a church where she would feel at home. She tried a few parishes in her neighborhood and found one where she felt comfortable. However, she was having trouble figuring out how to get involved. Finally, Elizabeth saw an opportunity. The parish was holding an upcoming event. She decided she would attend as a way to meet more people in the parish. As she filled out the reservation form for the event, she noticed that at the bottom it read, "Return to your child's homeroom teacher." What? Only parents of school children were invited to this event? You can imagine how crushing this was to her.
My second example is a bit less specific, but still noteworthy. An old high school friend of mine admitted recently that she had stopped going to church several years ago. She was tired of sitting in the pew alone, watching all the married women with their husbands and children. Realizing how she didn't have all that simply made her cry. She couldn't fathom still going to church if it meant being reminded of how God hadn't answered her prayers for a husband and children.
So how specifically can the church help?
Please remind priests and deacons to remember single people when they are writing their homilies. Some of the priests I know write homilies as if they were only addressing parents. This greatly saddens not only the single people in the congregation, but also those couples struggling with infertility.
Remind all church members that single people still play vital roles in the family. I may not be a mother myself, but I'm the loving aunt to thirteen nieces and nephews. I also play the role of aunt to my friends' children. My fellow single friends and I are the ones who watch the kids so the couple can go out and enjoy an anniversary dinner. We are the ones who bring over meals when one of the spouses is sick. Often we care for our aging parents when our married siblings are busy with their own families. (I think especially of my great Aunt Mary who never married but spent many years caring for her father.) We are the ones who will stand at the back of the church with the little one so Mom and Dad can receive Communion in peace. Just because we don't have families of our own doesn't mean we don't play an important role in the family-at-large.
Remind church staff to word things in the bulletin so that single people feel welcome, too. No more "return this to your child's homeroom teacher." Again, this is a slam against single people as well as couples who have been unable to have children. Or even those couples who, for financial or other reasons, send their children to the public school.
Remind church staff to actively seek out ways to involve single people in the church. When I think of my high school friend who stopped going to church, I wonder why no one ever invited her to sing in the church choir. She has an amazing singing voice! Perhaps if she had been encouraged to get involved, she wouldn't have stopped going to church.
Let's see if we can't find a way to engage the middle-aged single people in church. Here's the thing: the Archdiocese of Chicago (where I live) has a relatively vibrant young adult ministry. For the last few decades, it's done a good job of engaging single twenty- and thirty-somethings in the church. But what happens when you turn forty? If you're still single, you're wondering what you're doing at church. You're too old for the young adult group, you're too young for the seniors group, and all the other people your age seem to be in the Mom's Club.
Basically, I'd love to hear you and the other priests address the importance of the role of single people within the greater family of the church. And I'd love for them to utilize the (mostly) untapped resource that single people are within the church. Remember, single people often have more time on their hands than do married people. Think of all the good we could do in Christ's name if only our presence was recognized, welcomed, and encouraged.
Grazie, Papa Francesco. Io prego per Lei ogni giorno.