Last year, I reviewed Cynthia Toney's first book Bird Face, which has been renamed 8 Notes to a Nobody. A few months ago, Cynthia sent me a copy of the sequel 10 Steps to Girlfriend Status, and I've been eager to read it ever since. Unfortunately, a full-time teaching job plus an incredibly demanding doctorate program has meant I haven't had time to read any YA since last August! Ugh! I am way behind on my TBR list!
Anyway, Christmas break is finally here, so I hope to get in some good books before my two weeks are up. 10 Steps is a quick read, so I was able to finish it first.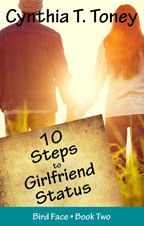 Title: 10 Steps to Girlfriend Status
Author: Cynthia Toney
Genre: contemporary realistic fiction
Age group: YA (but okay for preteens too)
10 Steps to Girlfriend Status is a lovely tale about a young teen (freshman in high school) who is learning how to manage her many changing relationships. First, she's hoping her guy friend will become more than just a friend. Second, her mom has just remarried, so she's figuring out how to be part of a blended family, complete with a stepdad, stepsister, and stepbrother. Third, her surrogate grandmother who lived next door to her old house is developing Alzheimer's.
As someone who recently lost her mother, I found this last changing relationship the most emotionally moving. While my mother didn't have Alzheimer's, it's never easy to see someone you love lose their grip on life. Cynthia Toney does a lovely job handling this difficult topic.
Parents, this is a "clean" read for your young teen. It has a light faith element in the story, but definitely nothing overly preachy. A very enjoyable read.